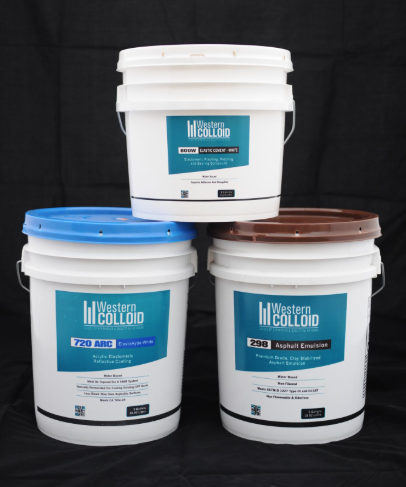 Colloid Definition: A type of homogeneous mixture in which the dispersed particles do not settle out.
Examples of colloids include: butter, milk, smoke, fog, ink, paint, ElastaHyde.
Ever wonder how Western Colloid got its name?  It was named after the pride of manufacturing a truly superior product.  The actual Colloid process that was used by Western Colloid over 40 years ago was a manufacturing technique that ensured a perfect blend of the different ingredients in a coating product.  Although it is a more expensive way to manufacture, it is still the way we make our coatings today.
We consider that process a key component to the longevity of Western Colloid – a company that contractors can depend on and a product line that stands the test of time.
Today, we use state of the art facilities to manufacture our asphalt emulsions and water-based coatings. Teamed with companies like Rohm Haas, BASF and Dow, we develop and manufacture some of the finest roof coatings available.
We are committed to producing systems that are environmentally friendly and energy efficient. Many of our products and systems are classified by Underwriters Laboratories and are FM 4470 Class 1 approved. As an ENERGY STAR® partner, we proudly offer several coatings with the ENERGY STAR label.
We adhere to the strictest standards to produce coatings to meet and exceed the requirements expected in today's products.
Gaining approval from these agencies is not just a one-time occurrence. At our manufacturing facilities we keep extensive records and adhere to the most stringent quality control.  We are consistently prepared for random audits to keep our approvals in good standing.
At Western Colloid, we make products you can count on!