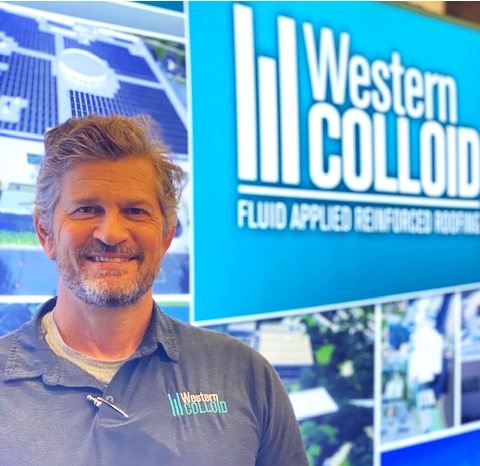 Meet the Team – Jody Chasse
Western Colloid is proud to have such a dedicated team. Our customer support is legendary, and our team fits beautifully with our company culture. We think of ourselves as a roofing manufacturer with the soul of a contractor.
These are the people that take our great products and become valued partners with our customers. We thought it would be nice to introduce them to you starting with members of our sales & technical support staff.  Getting to know these talented individuals helps explain the secret to our success.
We are asking our team 10 questions about themselves.  Meet Jody Chasse – Sales and Technical Support – South Texas Territory
How long have you been in the roofing industry?
I started roofing in college in Minnesota in 1986. My first roofing work was installing residential cedar shake and cedar shingles. I started in commercial built up, specifically fluid applied products, in 1993, so right around 30 years ago.
How long have you been working for Western Colloid?
I have been working with Western Colloid for almost 3 years.
What service do you provide your customers that is unique, if you don't mind sharing?
I am bilingual, which is somewhat unique in regard to interactions with my customers and their crews.
What is the most valuable lessons you learned about roofing since working for Western Colloid?
I have learned the value of mechanized production processes. No more buckets unless it's necessary!
In a few words describe the most important trait in a roofing mechanic/installer?
If an installer actually cares about what they're doing, then I believe they have a chance to be successful.
What are your biggest concerns for the roofing business today?
I believe there is a false perception that most roofers are not trustworthy or professional. That is a huge problem.  Truth is there are a lot of good people and reputable companies.
Do you support any associations related to the roofing/construction industry?
I support the Roofing Contractors Association of Texas, and IBEC (Building Envelope) locally and statewide.
What is the thing you like most about Western Colloid as a Company?
I like that Western Colloid is privately held and is not constantly looking for a buyer. I believe this sets us apart from our competition. We are truly outliers in this respect.
What advice would you give someone just starting in the coating business?
Pay attention to the written specs and listen and learn from those who have years of experience. Also, don't be afraid to make mistakes.
What is your most Frequently asked question in the field when you are on an inspection?
The most frequently asked questions are related to ponding water areas, typically.
"What do you consider 'ponding' areas to be?"
"How do we address ponding areas?"
Also, "When do I get a tee shirt?"
What is your most Frequently asked question in the field when you doing a demo?
I usually get asked about the chemical gloves we teach the contractors to use versus a chip brushes. Most of them have never applied details this way, so they want to know why it's better.  Oh, and "When do I get a tee shirt?"
What makes you smile when you think about your job?
The fact that we have a manufacturing plant right here in Texas makes me smile a lot.