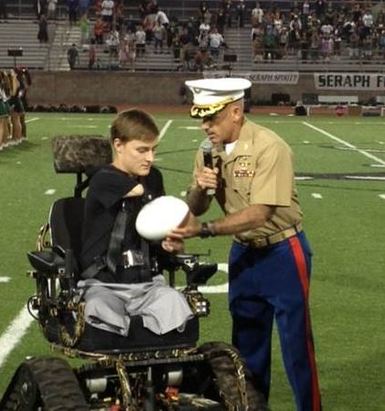 Western Colloid Honors Special Veteran
Western Colloid, donated a very special kind of wheel chair to a deserving veteran over the 2014 Holiday.  "We became aware of an organization called the Independence Fund which brings the generous support of Americans directly to the wounded War Veterans that need it the most" states Western Colloid General Manager, Greg Hlavaty "The Independence Fund, among other charitable endeavors, help distribute a very unique piece of equipment which enables the wheelchair bound the ability to climb a mountain, literally! It's called a Trackchair, which is like an ATV vehicle."
Action Trackchair, based in Minnesota, has been making these specialized vehicles since 2008 to help people with the freedom to get off the normal path. These all terrain wheelchairs allow the mobility to go hunting, hiking, fishing, going to the beach, etc.
"We forget, being West Coast based, that most of the United States can be wet and muddy for most of the year. Although this Trackchair can be used for outdoor sports, for most it just allows them the freedom to navigate their yards and get in and out of their homes" continued Greg. "We are really proud of our employees' participation with this donation. It's because of their dedication and hard work that we can provide this Trackchair to a real hero. We are all excited that we found out about this special organization and wheelchair. We are honored for the opportunity to make someone's life a little easier and maybe allow them to participate in the activities they once enjoyed".
ABOUT WESTERN COLLOID
For over 40 years Western Colloid has been recognized in the roofing industry as a leader in FARR – Fluid Applied Reinforced Roofing, Reflective Coating Systems and Premium Asphalt Sealcoats. Headquartered in Southern California, with five other manufacturing plants and distribution centers, they can provide products to contractors and building owners anywhere in the United States. Western Colloid is also known for extensive experience in coatings, a pioneer in energy saving and cool roof products and unique paving solutions. Acknowledged for their exceptional customer service and training they also offer bulk transportation and delivery solutions with their own fleet of tank trucks, saving contractors time and money.
Visit the Independence Fund and Action Trackchair to find out more about donating.