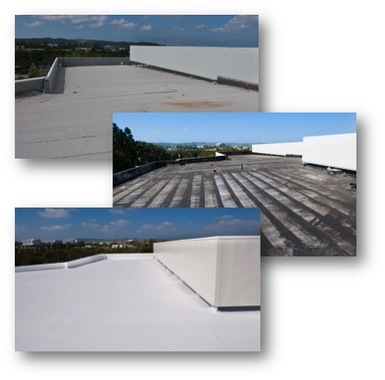 Emulsion and Elastomeric Roof Coatings Systems Emerging as Owners' and Architects' Preferred Choice
Western Colloid is a pioneer and innovator of asphalt emulsion and acrylic based roof systems that are eco-friendly and can be applied over many existing roofs.
Roof coatings have been thought of for many years as temporary fixes, or a way to squeeze a few more years out of an aging roof system. Western Colloid has challenged that perception by creating an asphalt emulsion based system that is rapidly becoming the roof system of choice for owners, specifiers and architects.
Earth-friendly
More owners are seeking environmentally friendly roof systems that are cost-conscious and will perform for many years. Western Colloid's asphalt emulsion based system is very kind to the environment because it has no solvents or added chemicals. It is made with just three ingredients – asphalt, water and clay. The company developed a proprietary manufacturing process that blends it into a water-based product that can be applied to over just about any type of existing roof including built-up roof systems, modified-bitumen, TPO, EPDM, Hypalon and coal tar pitch.
The ability to install the roof system over existing materials means that fewer construction debris is ending up on landfills. Reducing the amount of construction debris conserves landfill space, reduces the environmental impact of producing new materials, creates jobs, and can reduce overall building project expenses through avoided purchase/disposal costs. When the new system does begin to age and wear, it can be recoated a second and third time to ensure maximum protection for years to come.
Another reason it is becoming so appealing to building owners, architects and specifiers is that it has zero VOCs, no fumes and little to no odor. It is applied at ambient temperatures and there is no little impact to occupants of buildings where they system is being installed. No ventilation is required, HVAC systems can remain operational and business won't need to be paused or interrupted.
A top performer
Because the industry for so many years had the view that roof coatings are only a temporary fix, Western Colloid committing to testing the performance of its roof systems by obtaining FM approval ratings. FM Approvals is the only organization in the world that tests only complete roofing assemblies, subjecting them to tests that simulate multiple real-world perils such as fire above and below the deck, wind uplift, hail, weathering, water leakage, foot traffic and the corrosion of metal parts.
Western Colloid's systems can be installed with Cool Roof characteristics with Energy Star® and reflective surfacing options.
Products