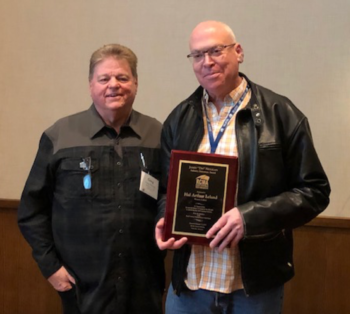 Hal Arthur Leland Honored with RCMA Industry Statesman Award
The Roof Coatings Manufacturers Association (RCMA), a national trade association representing manufacturers of cold applied protective roof coatings, cements, and suppliers of industry products, recently awarded Hal Leland with the Industry Statesman Award at this year's RCMA Annual Meeting, February 13, 2019 in Nashville, Tennessee.
Over the years, RCMA has only on several occasions identified an RCMA member who has deserved this peer recognition through their interests and activism in promoting and their efforts to achieve significant advancements through the implementation of new technical programming, regulatory or governmental affairs incentives, research activities, technical publications, and RCMA and industry involvement.
The Industry Statesman Award, which is also known as the James "Tim" Nelligan Award, is presented when deemed appropriate through peer recognition.
Leland was recognized "In appreciation for special efforts on behalf of the Roof Coatings Manufacturers Association in advancing roof coatings industry technology." Stated Greg Hlavaty, current President of the RCMA.
"Hal was acknowledged for his contributions to the revision of ASTM code D6083, his work with the RCMA and the CRRC."
Hal's position as general manager for the company's northern California and Pacific Rim areas plays a key role in Western Colloid's commitment to the industry. On behalf of Western Colloid, Leland lends his technical expertise as a voting member at ASTM, as co-chair of the Codes and Standards Task Force for the Roof Coatings Manufacturer Association (RCMA), and his position on the Board of Directors for the Cool Roof Rating Council (CRRC).
About Western Colloid
For over 45 years Western Colloid has been recognized in the roofing industry as a leader in FARR – Fluid Applied Reinforced Roofing, Reflective Coating Systems and Premium Asphalt Sealcoats.  Headquartered in Southern California, with five other manufacturing plants and distribution centers, Western Colloid is also known for extensive experience in coatings, pioneers in energy saving and cool roof products and unique paving solutions. For more information please visit us at www.westerncolloid.com
About RCMA
RCMA is the national trade association representing manufacturers of asphaltic and solar reflective roof coatings and the suppliers to the roof coatings industry. RCMA and the Reflective Roof Coatings Institute (RRCI) have merged into one industry association that continues to advance, promote, and expand the national and international market for roof coatings through education, outreach, technical advancement, and advocacy. For more information on RCMA activities, programs, and initiatives, please visit us at www.roofcoatings.org.