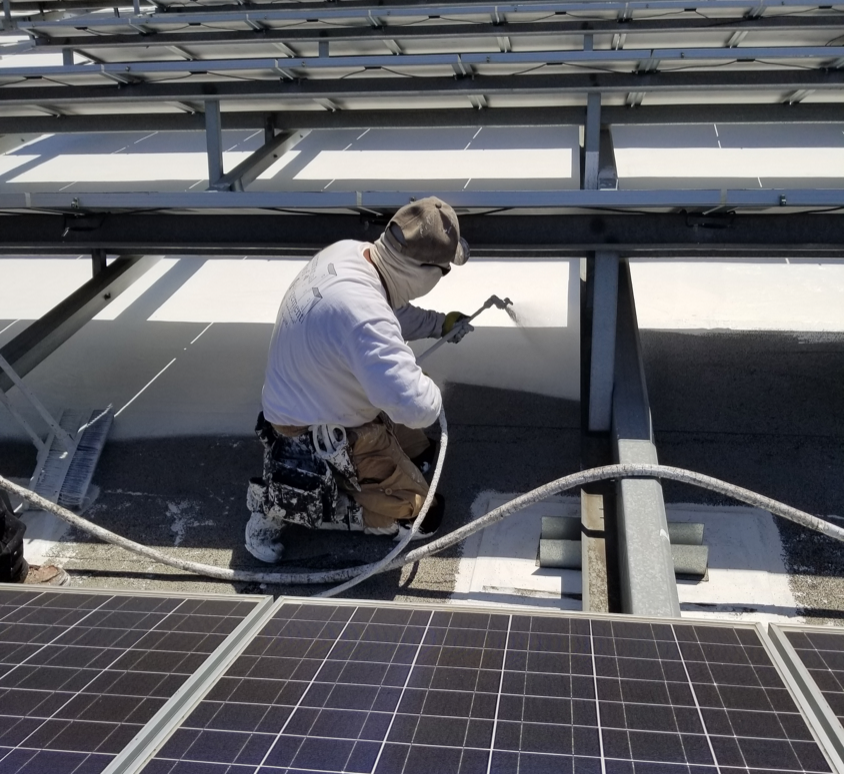 California Department Store Solar Retrofit
Western Colloid provided the roofing system for eighteen department stores. Each building had over 50% of the roof area covered with a new solar system on them but the majority of the buildings' substrate was old worn TPO with a few EPDM roofs.  Another challenge was some buildings were in areas with dew and water drip off over 200 days per year.
Additional challenges were:
Solar damages some roofing products.
Some roofing products compromise the efficiency of the solar.
A solar installation may void the roof warranty.
Traditionally, most re-roof projects would have required removing the solar, removing the TPO and installing a new roof and re-installing the solar, but with the fluid applied solution the contractor avoided the nightmare in logistics and a substantial increase in price.
The contractor was able to avoid removing the solar and with the Western Colloid FARR system they were able to install a permanent seal around the roof penetrations.
The project installation images shown here reflect that the FARR system was the right solution for these challenging buildings.
Results
The building owner and roofing contractor selected a Western Colloid fluid-applied reinforced roof system that was sustainable, energy efficient and could handle traffic and impact. Additionally, Western Colloid matched the roofing system life with the term life of the solar system. Western Colloid also provided specifications to be tested and approved by Factory Mutual meeting the FM 4470 Class 1 rating, so that the entire system met specifications, code and the building owner's requirements.
Related Products