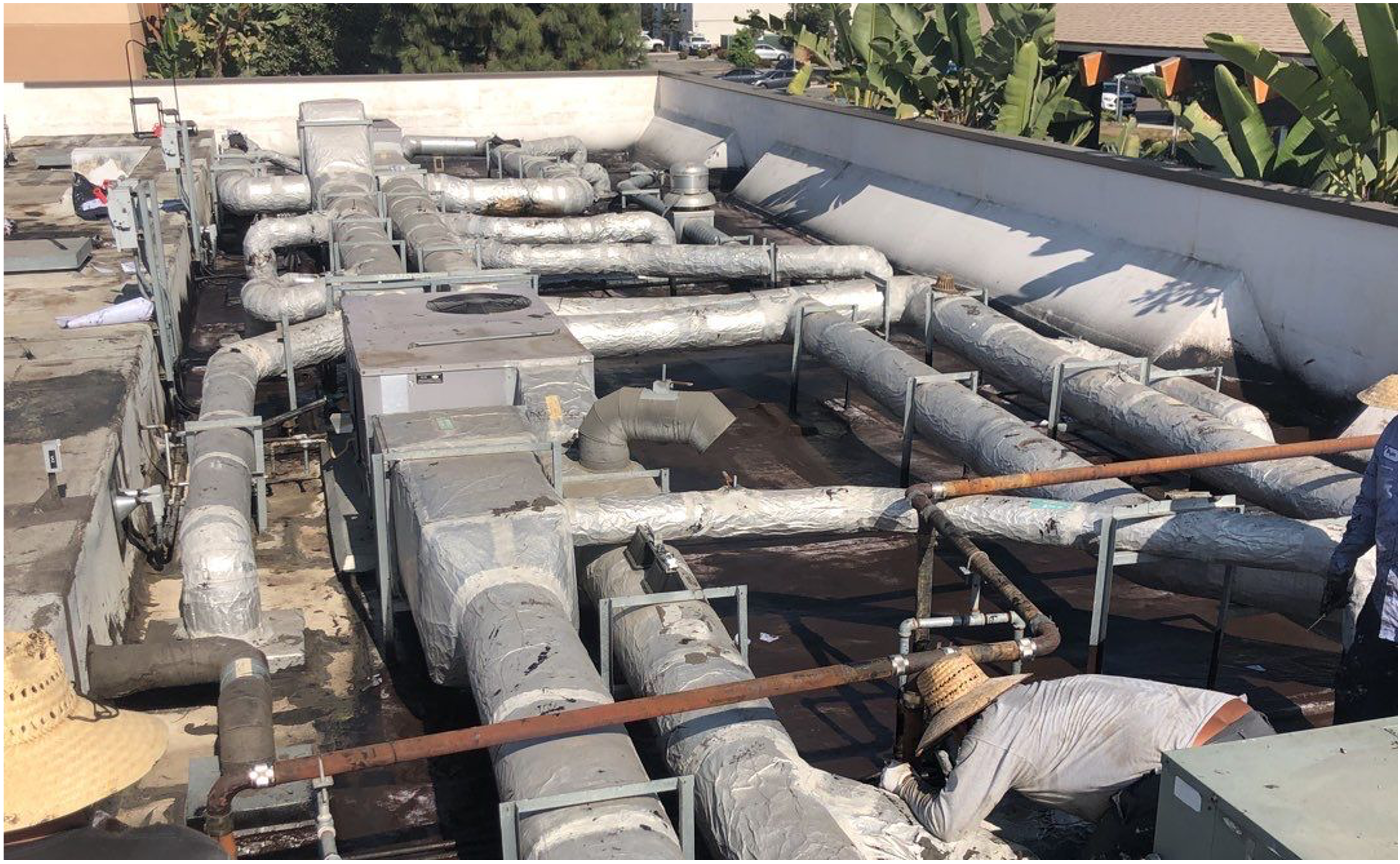 PROJECT PROFILE – Citrus College Hospital
Original roof assembly: Built-Up Roofing
Duration of job:  6 Weeks
Project Challenges
Bob, the Facility Manager at Citrus College Hospital, needed a clean and unobtrusive roof option that would meet the warranty needs of the organization but not disrupt the daily operations of the hospital or disturb the patients.  He reached out to Sam Dennis, Western Colloid's regional manager, in early 2019 for a roof assessment and a specification recommendation.
The biggest concern was safety for the occupants. Being a psychiatric hospital, it has many live-in rooms which all need to be individually climate controlled.   Besides possible disruption to the equipment, any sort of VOC fumes sucked into the ventilation system during the roof restoration could be disastrous.  The Western Colloid option was the safest as their products meet or exceed many of the standards and requirements for low VOC's.
Another challenge was chronic ponding water areas on the roof.  The roof was in very poor condition and covered with equipment, ducting and penetrations.  As you can see by the photos below, there are many HVAC units and duct work throughout the roof which causes ponding water.  Although Western Colloid recommends that contractor's try to fill low areas to alleviate ponding, on a roof like this with all of these obstacles there was little chance that ponding water could be eliminated.
"Western Colloid put in and extraordinary effort to make this project come together."  Bob continued, "It was an extremely difficult project with a massive amount of roof equipment, and roof penetrations to deal with. In addition, there were several very unusual conditions and nonconforming penetrations through the roof that made this exceptionally difficult. The Western Colloid team, especially Mr. Sam Dennis, were always available to offer advice and even come out to the site when requested."
It is worth noting that Western Colloid's warranty does not exclude ponding water like some of the other manufacturer's warranties do so it was important to match to right specification to the job.
The solution that was agreed on was Western Colloid's SMEA-2P-6XE or the "One and One" as contractors call it.  This system consists of one polyester sheet set in Western Colloid's #298 Emulsion and another set entirely in Elastahyde #720 Acrylic coating.  This system is a great option as the fully re-enforced Elastahyde topcoat holds up to ponding water.
Conclusion
Despite the limitations by the conditions on the roof, the contractor was able to provide the hospital with a fully restored, watertight, "cool roof" which will now be energy efficient along with a 15-year material and labor warranty.
Related Products