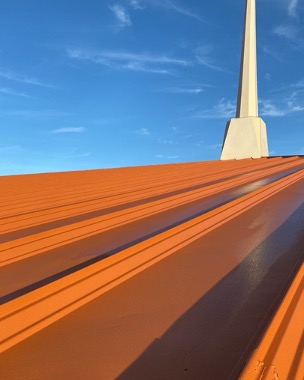 PROJECT PROFILE – Cornerstone Baptist Church
This Texas church had a big problem.  It had a failing metal roof with a custom color, an insurance claim with time constraints, and it was in the middle of covid.
The costly process of replacing the panels was not possible due to the covid supply chain issues.  But the most important challenge to overcome was the iconic color of the roof needed to remain.  This was very important to Church leaders, as this was their signature color and could be seen from a distance in the area.
They elected to apply a roof coating system that would match the existing color. They initially had signed an agreement with a contractor who sold them on another product which could not produce a custom color they required.
Mastercraft Roofing and Construction out of Terrell, Texas won the project.  Working closely with Western Colloid, and after several attempts to duplicate the color, hard work involving a few of Western Colloids manufacturing plants, Western colloid was able to produce a color that matched the existing roof.  The match was so good in fact, they did not even have to spray the gutters.
In addition to the creation of their special roof coating, Tim Ford, Western Colloids' Senior Technical and Training Expert, provided excellent training to their crew of applicators. Once completed, it looked like the original roof. The project was completed in a timely manner, on budget, and the Church was very satisfied.
With Western Colloid it's not just about providing the products, it's about the entire roofing project. We support the contractor and the building owner. We were proud to have been involved in this historic roof restoration.
Related Products