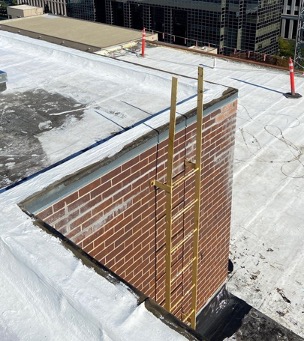 PROJECT PROFILE – Denver High Rise
This 10-story building, originally built in 1962, was being transformed to artist lofts, apartments, and roof top lounge.
With its multiple substrates, multiple roof elevations, and multiple change orders, this job was a real challenge and a complete work in process, literally.
It was necessary to create different roof system specifications for different areas of the roof as many parts of the roof were being transformed to high traffic areas.
With the benefit of a freight elevator the contractor was able to work with a spray rig with materials in 55-gallon drums.  Although the actual specification varied our #298 Asphalt Emulsion, Polyester Ply, and Elastahyde #720 Acrylic were the main products used along with our #800 and #8000 Elastic Cement.
The project was fraught with obstacles such as moving drains and contending with the weather. As the job progressed there were many changes in roof penetrations many times in already completed areas.
When a member of the Western Colloid team couldn't be there in person, we assisted the contractor using all of the benefits of modern technology.  Through phone calls, videos, and images, we were able to walk the contractor through many rough situations with this constantly changing project.
The contractor was pleased with the flexibility our products allowed along with the continued support of our field team. That is two of the most important benefits of working with Western Colloid.  Please contact us for your next challenging project.  We also like easy ones too.
Related Products