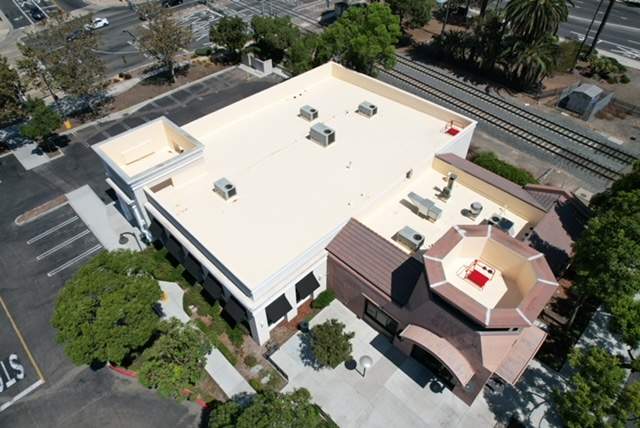 PROJECT PROFILE – Vista Village Shopping Center
This project is a terrific example of adaptability.  This area known as Vista Village is home to shops, restaurants, and businesses and it consists of many buildings, each with different roof substrates.  It is also open 365 days a year so roofing and shopping had to happen simultaneously.
Although the work was scheduled for 3 parts, the logistics of "roofing in the background" was at the forefront of this project. Because of Western Colloid's product container options, a tanker was staged, and totes were refilled to take to the different buildings as the work proceeded. Installation of Western Colloid's roof coating systems require a minimal footprint on the ground and takes less employees than traditional roof products.
Besides the selection of Western Colloid products for their logistical support, a roof system was needed that could adapt to each individual product substrate on the stand-alone buildings such as Modified Bitumen, PVC and TPO. The costly option of trying to remove and replace those existing roofs with like products would have been too difficult with the Village being open for business.
Additionally, with Western Colloid's low VOC products work could be done without any smell, hazard, or disruption, to the tenants and their customers.
The system chosen to meet the needs of this project was a SM-2P-XE specification which is a Fluid Applied Reinforced Roof System using our #298 Asphalt emulsion with 2-Ply's of embedded Polyester and our #720 Acrylic ElastaHyde in California Tan for the acrylic surface. This system is FM 4470 Class 1 Approved which also meets California Title 24 requirements.  In addition our SMAA-1P-6XE 1-Ply Polyester Reinforced – Acrylic Surface specification was used as needed.
By choosing Western Colloid they could successfully restore the Village's multi-surface roof membranes while causing no inconvenience to the tenants. Plus, the buildings now have a superior renewable roof that can easily be repaired, if necessary, from damage by other trades on the roof or adding solar as the buildings adapt to different tenants.
This project is a terrific example of Western Colloid's commitment to helping their customers be more adaptable when met with roof life challenges.
Please contact Western Colloid for your next project.