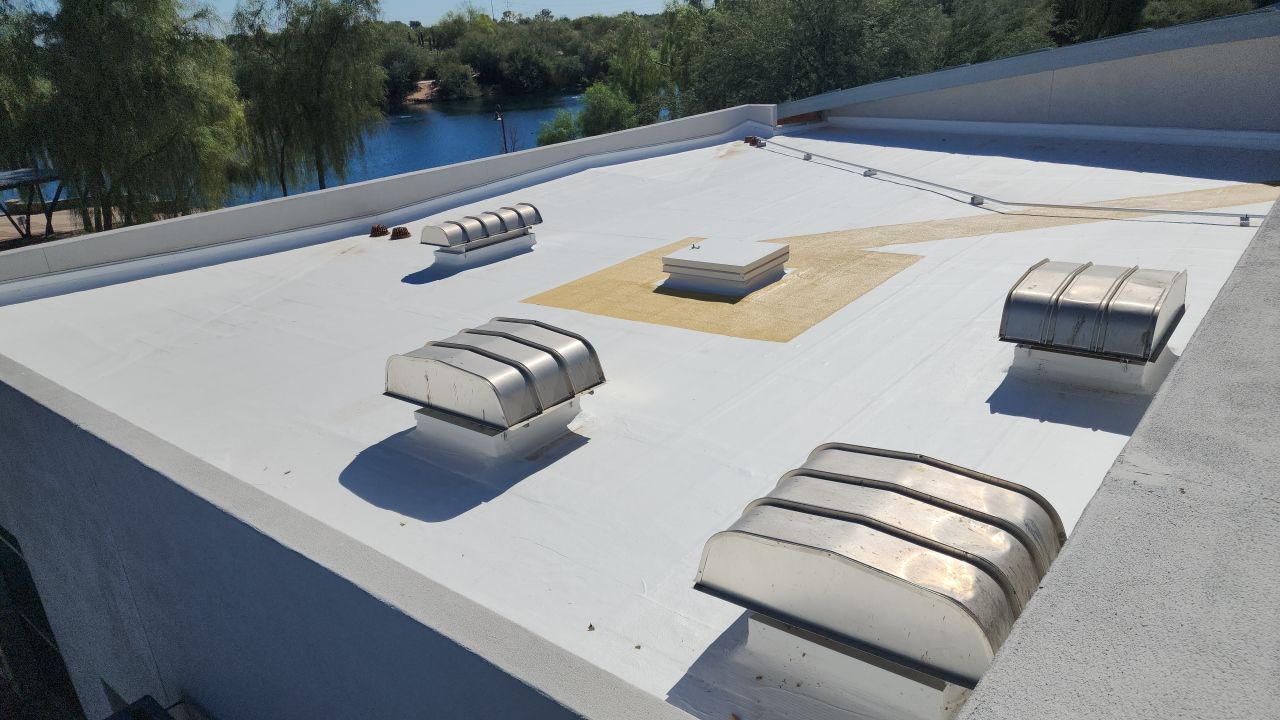 Project Profile – Southeast Regional Library Gilbert, Arizona
Original roof assembly: Aluminum Clad Modified SBS Roof System  Duration: 3 weeks
This Arizona library had an uncommon dilemma with its new roof project, an uncommon roof substrate. It had an aluminum clad modified SBS membrane that had past its prime.
The contractor, Star Roofing's, objective was to install a roof system that did not require a tear-off, that was not disruptive to the operations of the library, and that provided a 10-year labor and material warranty.
Challenges for this large library complex was the possible delamination of the aluminum facer.  Comprehensive inspection of the entire roof surface and flashings was done in order to mark and eliminate any of the aluminum facer that was not adhered and sound to the underlaying SBS membrane sheet.
Once the damaged areas were identified and repaired the solution for Star Roofing was selecting a Fluid Applied Reinforced Roof system by Western Colloid.  Jeff Klein, Vice President of Star Roofing stated, "We selected Western Colloid based on our long history with installing this roof system and knowing that great technical support is only a phone call away."
Star Roofing started out by removing all debris from the existing roof surface and cutting out and making repairs to any blistering or delamination of the aluminum facer. They then installed trowel grade elastomeric coating and fabric at base flashings, penetrations, and drains.  Once the prep work was completed, they applied 6 gallons per 100 square foot of emulsion and embedded the polyester web.  To complete the system, they installed 3 gallons per 100 square foot of white acrylic coatings, installed 30" wide walkway and reinstalled the counter flashings.
Jeff continues, "We have installed several hundred thousand square feet of this system and we never have to worry about the roof leaking.  We are always excited to see how beautiful the final product looks and how happy the customers are."
The outcome for this project was that City of Gilbert received a beautiful roof that will protect their assets for years to come with an option down the road to extend their 10-year warranty with an additional 10-years of protection.
Please contact Western Colloid for your next challenging project.
Specs
SM-1P-XE
Related Products