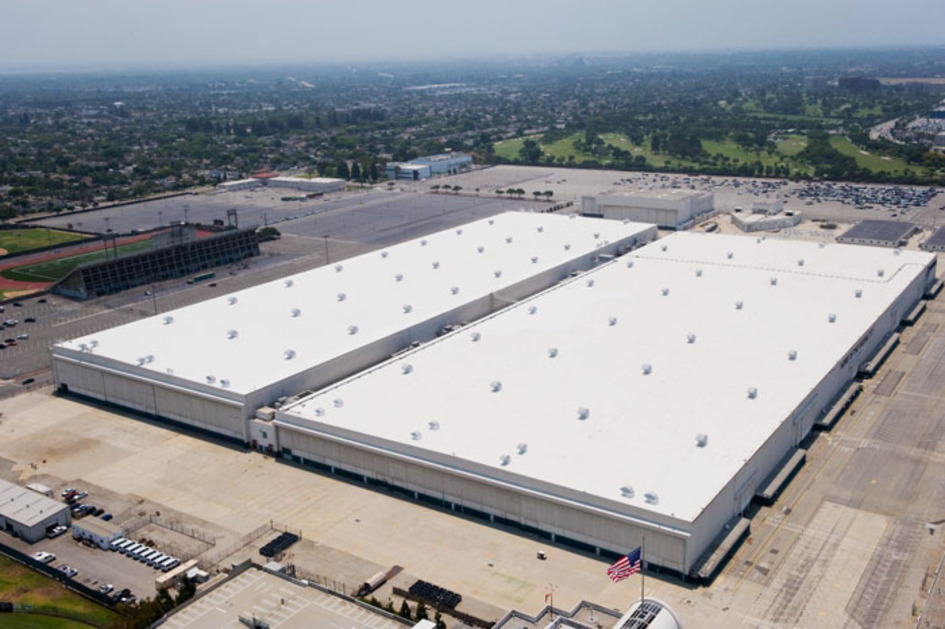 Which Is Better: Fluid Applied Reinforced Roof (FARR) or a Single-Ply Seam-Welded Roof
There are more roof systems on the market than you may be aware of. When many people think of a new roof for a commercial building, they picture a built-up roof (BUR) system and smelly bubbling tar pots.
But alternative products have been available for a while; some of them for decades. They provide viable and cost-effective choices for building owners and contractors. While BUR systems are still a good option in terms of durability, they can also be very heavy, and their dark colored top layer means they absorb heat, putting a strain on HVAC systems to properly cool the building below.
Two options to consider instead of the traditional systems are seamless fluid applied reinforced roofs (FARRs) and single-ply seam-welded roofs.
What Is a Fluid Applied Reinforced Roof?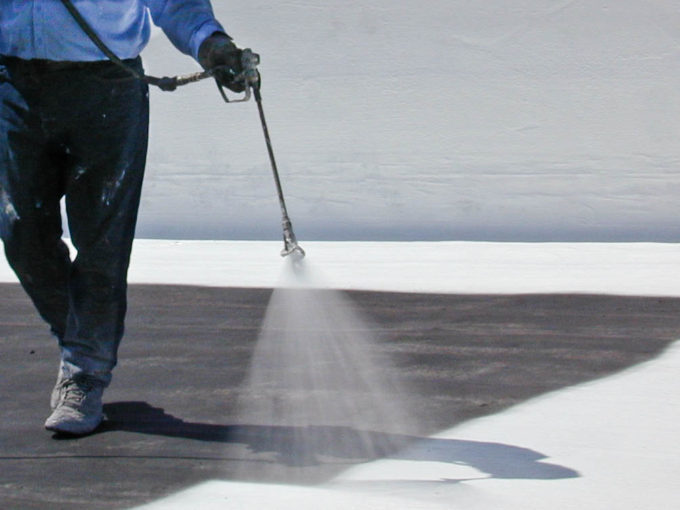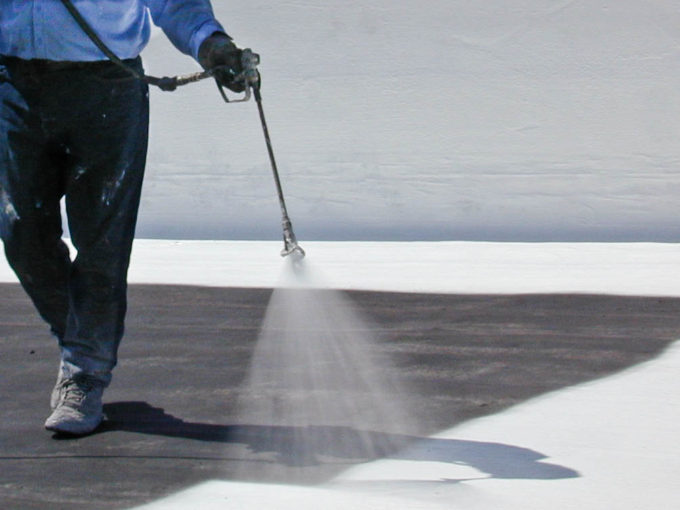 A FARR is, as the name suggests, a roof system that includes a fluid application. FARR systems typically include liquid coatings between layers of tough yet flexible polyester fabric. The coatings can be either an asphalt emulsion or acrylic, or layers of both, and can be applied with rollers or with a spray.
A Western Colloid FARR system is water-based and non-toxic. Many FARR coatings have received UL Class A ratings, indicating superior fire resistance, and FM 4470 Class 1 approval, meaning they are rated to withstand hail damage. Despite being a relatively lightweight assembly, they are tough, rugged and designed to last for decades.
What Is a Seam-Welded Roof?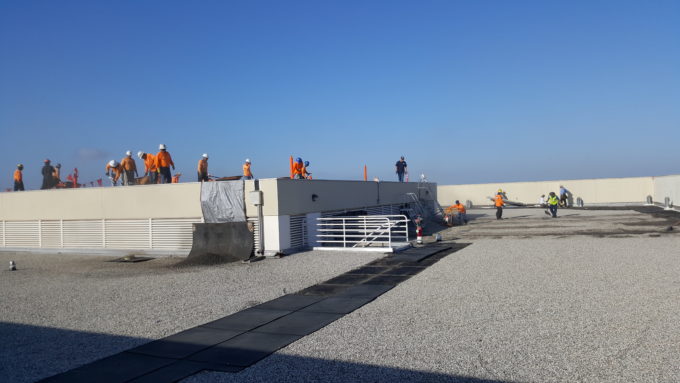 A seam-welded roof refers more to the way seams in a single-ply roof are fused. A single-ply roof involves a single layer of a plastic membrane, typically TPO (Thermoplastic Olefin) or PVC (polyvinyl chloride). Single-ply roofs are lightweight and the sheets are rolled onto the roof over insulation and cover board, and they can be fixed in place using chemical adhesives, mechanical attachments or a ballast like gravel.
In seam-welded roofs, the single-ply membrane is usually mechanically attached using screws or other fasteners, and then heat-welded along the seams. These welds are very durable, and many times contractors will layer welds on top of each other for longevity.
Many types of seam-welded roofs are, like FARR systems, UL Class A rated for fire resistance. They are UV and chemical resistant and designed to last for decades.
How Are Fluid Applied Reinforced Roofs and Single-Ply Roofs Similar?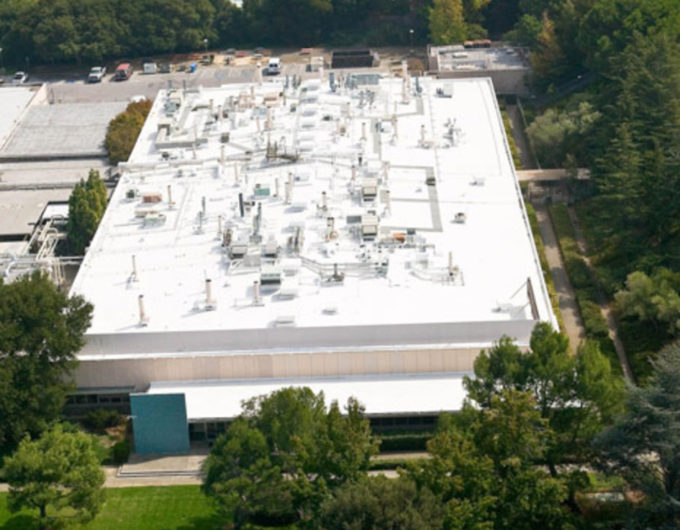 Both FARRs and singly-ply roofs are good options for building owners and operators looking for a lightweight option with added energy efficiency benefits compared to traditional roof systems.
TPO, PVC and FARRs are usually white, meaning they reflect sunlight rather than absorbing it. This property makes them well-suited for green buildings and buildings where owners are looking for ways to reduce their energy usage.
Both FARRs and singly-ply roofs are designed to be long-lasting, but if damage does occur, they are both also easy to repair. Seams can easily be re-welded, while a new layer of coating is similarly easy to apply to all or part of a FARR.
Which Is Better: Fluid Applied Reinforced Roofs or a Singly-Ply Roof?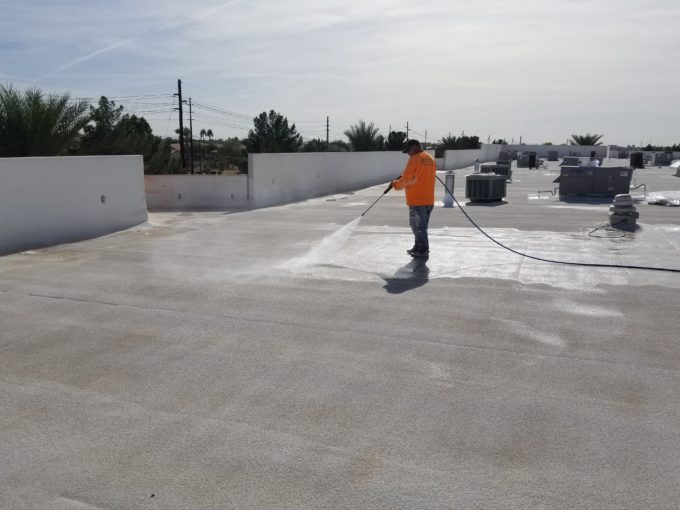 If you're in the market for a new roof, it can be tough to know which roof system is right for you. While FARRs and seam-welded roofs may have some similar properties, they do have some differences as well that might sway your decision in one direction or the other.
The first factor to consider is why you're looking at a new roof. Building owners might undertake a roof replacement for a number of reasons including:
Proactive repair as the existing roof system reaches the end of its lifespan.

Reactive repair if the roof is severely damaged.

Building retrofit or renovation to meet tenant requirements, local ordinances or to meet new green building standards.
If the existing roof is in relatively good condition, with no damage to the insulation and structure beneath, then a FARR is an easy and cost-effective approach to extending the longevity of your roof. FARRs are compatible with a number of systems, including BUR, Modified Bitumen, Single Ply, Metal Roofing, Sprayed Polyurethane Foam and Gravel roofs.
FARRs are also a good solution if the existing roof already consists of several roof systems stacked on top of each other. Many building codes limit the number of roofs that can be built up to two, usually for load-bearing structural reasons. However, in many jurisdictions, a FARR is not considered a separate roofing system and can be applied over a two-roof system while still being code-compliant.
In the event the existing roof is severely degraded and damaged, particularly if that damage extends to the roof layers like insulation and structural elements, you may need to undertake a complete tear-off and replace. In this situation, a single-ply seam welded roof might be the preferred solution, offering a higher degree of insulation than the older roof and bringing added energy efficiency.
Speaking of energy efficiency, if your roof replacement is part of a larger green building initiative, then TPO, PVC and FARR may all be good energy-efficient choices. However, retrofits like these often involve many other building elements to achieve compliance with updated building codes. It can become very involved and, ultimately, expensive.
In light of that, building owners may find choosing a FARR to be preferable, since it can be applied more quickly and typically for less cost than installing a complete single-ply, seam-welded system.
For more information on which system is your best option for your next roof replacement, visit the Western Colloid website or contact us to see if your roof qualifies for a FARR system.