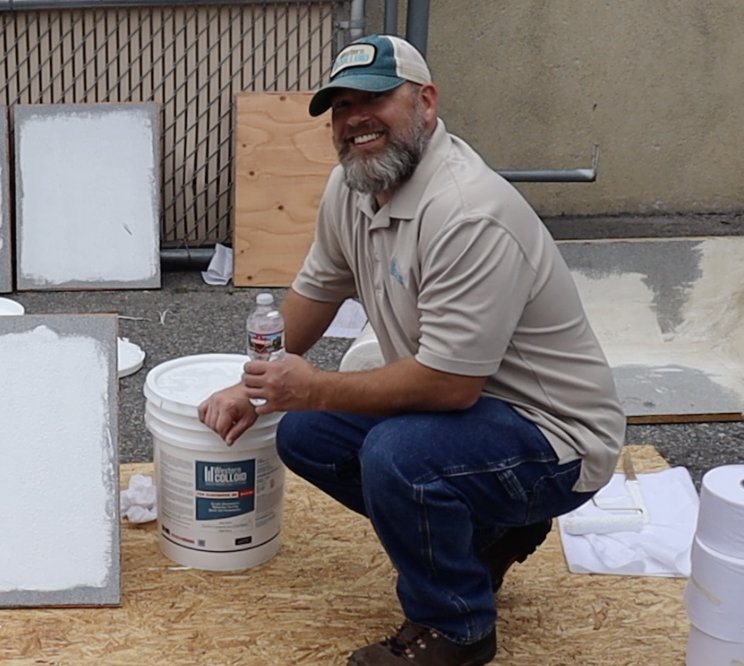 Meet the Team – Chris Ford
Western Colloid is proud to have such a dedicated team. Our customer support is legendary, and our team fits beautifully with our company culture. We think of ourselves as a roofing manufacturer with the soul of a contractor. These are the people that take our great products and become valued partners with our customers. Getting to know these talented individuals helps explain the secret to our success. We are asking our team 10 questions about themselves.
Meet Chris Ford, Director of Field Technical Services
Q.) How long have you been in the roofing industry?
A.) Since July of 1993. I started straight out of high school working for a roofing contractor. Around 2008 when the economy slowed down I kind of came and went in the roofing industry for a few years.
Q.) How long have you been with Western Colloid?
A.) Just over six years.
Q.) What service do you provide your customers that is unique?
A.) With my job of training our contractors in installation. I've done repairs on roofs. I've installed them from new, I have a lot of experience in the roofing industry, and so does everybody else that works at Western Colloid in some capacity. We've been involved with this for most of our lives, if not all our lives. You just get a dedication that you don't get from anywhere else. Here at Western Colloid, we're like a family.
Q.) What do you think is the most valuable lesson you learned about roofing since working for Western Colloid?
A.) What's important is that you put the right roof on for your building. What are you trying to accomplish?  A lot of times I see using silicone as a band aid. Now you've hamstrung yourself, now you've limited your options going forward. So, I'd say if I pick one thing, just choose the right roof system for the roof.
Q.) Describe the most important trait in a roofing mechanic installer?
A.) That's a hard one. It's harder nowadays than it's ever been. The place that I think that the most money and efficiency is lost is just being organized and understanding preparation. We've made a video about job site preparation just for this reason. Work with a purpose. Have a plan and work the plan. it's not about going so fast all the time. It's about having a reason for every movement you make. If you can hire people who think in that manner, it's great.
Q.) What are your biggest concerns for the roofing business today?
A.) The biggest difficulty for all members of the roofing industry right now is labor.
Q.) Now do you support any associations related to the roofing construction industry?
A.) Western Colloid is heavily involved in many organizations and associations. Me personally, the Colorado, Arizona and California Roofing Contractors Associations.
Q.) What's the thing you like most about Western Colloid?
A.) I just love the culture here. I've worked in different industries. Like I said, I kind of jumped around a little bit, around to different industries and, and tried different things. What we have at Western Colloid is so unique in that all of us individuals have roof top experience. And we're empowered to use that.
I get to just use common sense regularly and make what I think is the right call. It's just such a supportive environment. I love that we back our products, we back our contractors, we back our roofs.
Q.) What advice would you give someone just starting in the coatings side of the business?
A.) Be patient and try the best you can. Just find good people. If you can find even like two or three good guys that are dedicated that show up on time keep them and then equip them properly, supply them with the tools and the knowledge that they need, and now you have something that's sustainable for the next 5, 10, 20 years.
Q.) What's your most frequently asked question in the field when you're doing a demo?
IA.) get the question how does it hold up to ponding water? How does it compare to other products, like silicones or other polyurethanes? Operating temperatures? There's a lot actually.
Q.) What makes you smile when you think about your job?
A.) I just am legitimately, genuinely happy to be here. No, I don't love every day when it's 110 in Phoenix, Arizona, and I'm training a crew on a roof. But, as a general statement, I love the people I work with. They're knowledgeable. We have a great team in place, and we all rely on each other to make our lives easier. So, it feels good to go to work.
Next time you are in need of some excellent customer support and technical services please contact Chris Ford.