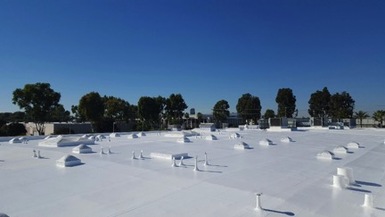 PROJECT PROFILE – PACIFIC DENTAL SERVICES BUILDING
Pacific Dental Services Building
Contractor: Commercial Roof Management
Job location: Irvine, California
Original roof assembly:
EPDM, age unknown. The roof surface was pin holing throughout and had over 100 roof leaks in 124,000 square feet, (1,240 squares).
Selection of Western Colloid:
Originally the building owners thought that their only option was to tear off the EPDM and replace with a similar product. They hired a roof consultant who recommended Western Colloid's Fluid Applied Reinforced Roofing as a solution.
Western Colloid has systems that are fully tested and approved by FM for overlay installation over EPDM.
Western Colloid presented a specification that would eliminate the removal of the existing roof assemblies and save 30 – 40 % on the overall project costs by not removing the old roof and saved man-hours on the installation. Additionally future savings will be enjoyed with their now energy efficient white roof.
Pacific Dental avoided the disruption to their employees by a lengthily roof removal and re-installation plus the debris and landfill waste was at a minimum.
The Western Colloid specification allowed the contractor to use a temporary fix to stop the leaks with #800 Elastic Cement and polyester reinforcement. Then continuing with this extra layer of protection in the waterways and drains.
Final installation steps included #298 asphalt emulsion with polyester reinforcement. Once cured, the system was surfaced with Western Colloid's ElastaHyde acrylic coating.
Size: 124,000 SF
Duration: 4 weeks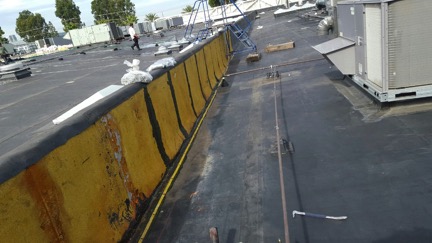 Pacific Dental Building with existing EPDM roof and buckling wall sheets.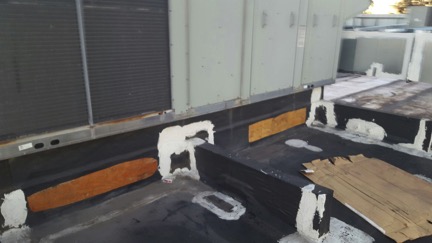 Reinforcing waterways and drains.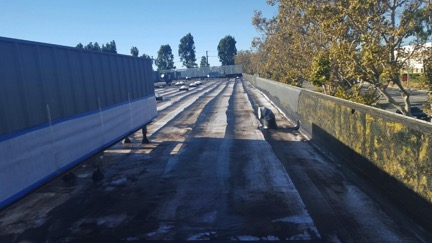 Embedded Polyester fabric in Emulsion.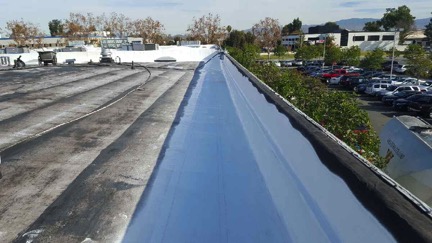 Top Coat of Elastahyde, including now repaired walls, creating a seamless surface.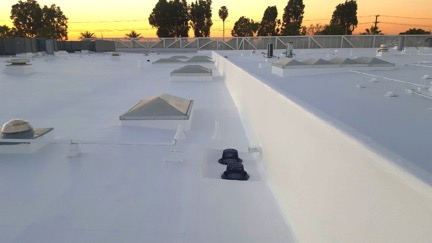 Completed warrantied job.
Products