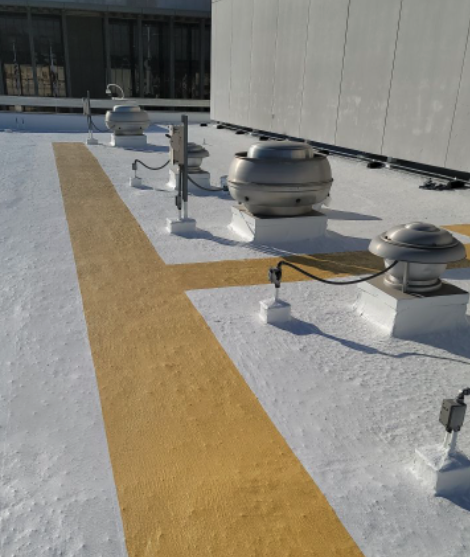 PROJECT PROFILE – Alhambra Police Department
Original Assembly: Rock/Gravel Roof over BUR
This Southern California Police station came with its own set of challenges. This project was a Western Colloid specified roof using our GR-2P-24-XE
Specification, but the most challenging aspect was the bidding process in the middle of the covid restrictions.  Our Training and Technical Consultant, Tim Ford, conducted the inspections and recommendations with 15 different contracting groups, Safely!
This roof had a gravel surface. The loose gravel had to be removed, surface cleaned, and then fill-leveled with our #298 Asphalt Emulsion to fill in the irregular voids left by the rocks.  This is the most important step of a gravel roof restoration. By filling the void's you create a smoother surface giving us great adhesion.  On this project a coating of 9 to 12 gallons per square was used.  Then 2 ply's of polyester fabric and the emulsion topped by our #720 ElastaHyde Acrylic Roof coating.
The biggest challenge was a giant water tower on the roof that was constantly leaking underneath it.  The roof area beneath it was destroyed.  That area had to be repaired and a new roof installed to be protected from the constant dampness.   Another issue with this dark, damp, area was curing the water based Western Colloid acrylic topcoat.  As this area never sees sunlight it was dried with large construction fans.  The next step was to prevent new damage.
Tim and the Best Contracting team came up with a plan.  They had a 8 x 10 foot sheet metal pan fabricated and added a PVC drain pipe leading to a roof drain there by avoiding the problems on the past roof.
It was a long process to get this roof from bid to completion but the ingenuity by our team and Best Roofing protected this important building with a new 10-year warranty and a roof system they can believe in.
Lesson here?  Western Colloid helps you build a successful roof (and business).  Even its not all about us!
Related Products