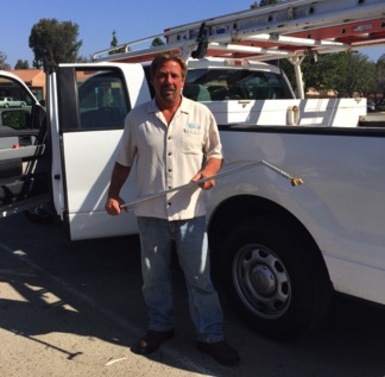 ROOFING – INVEST NOW TO SCALE AND SAVE
LEARN HOW ONE CONTRACTOR SAVED $11,000 ON MATERIAL ALONE WITH JUST A SINGLE PRODUCT CHANGE, NOT TO MENTION THE LABOR SAVINGS.
As Western Colloid's senior field tech and trainer, Tim Ford spends a lot of time with contractors of all sizes, helping their crews learn how to perform quality installations that result in a long-lasting roofing system. He also is focused on helping contractors find the most efficient ways to be successful and profitable on every job.
When San Francisco, California-based A-1 Roofing & Building Maintenance first started applying Western Colloid's fluid-applied roofing systems, most of their jobs were smaller ones. Their installations involved applying the emulsion, followed by a polyester fabric, and then topping it with an acrylic coating. Tim said that because the projects were small, they ordered the emulsion and coating in five-gallon buckets, using rollers and brooms to apply the system.
As the company began to grow and take on larger jobs, they were still ordering the products in their five-gallon bucket packaging. "I visited a job site that they were doing, and it was a good size – 300 squares," explained Tim. "For that size job, they needed 1,800 gallons of product and they ordered all of it in five-gallon buckets. There's a lot of labor wasted in handling all this material, getting the material on the roof, opening the bucket, and throwing away the bucket."
Tim says that he reached out to the owner of A-1 Roofing and explained that he has options to order product in larger sizes, from 55-gallon drums to a tanker that can hold 5,500 gallons. He also recommended that they purchase a pump and accessories so the installation would be less labor intensive.
"The pump we recommend is able to apply up to 17 gallons of product a minute," said Tim. "In the time it takes a crew member to just open the lid
of a five-gallon bucket, the pump can have emulsion sprayed out over a large part of the roof, ready to have fabric put down."
Though it required about a $20,000 investment, the owner realized that on just one job he saved $11,000 in material savings by buying in bulk rather than in five-gallon buckets. The pump would quickly pay for itself. It was easy to get started too with Tim being on the job to show them how to operate the pump and change out the accessories to spray both the emulsion and the acrylic coating.
"At Western Colloid, we really emphasize our customer service on the roof," said Tim. "We will have a technician on the roof working side by side with you, not just standing in the background telling you what to do. We get next to you and get dirty with you."
Tim shared that the owner of A-1 Roofing & Building Maintenance was thrilled with the outcome of his investment in the pump and is realizing tremendous cost and labor savings on the company's Western Colloid roofing systems installations.
Unlike any other company, Western Colloid works with contractors to help build their business.
Contact Us today and let us show you how to be successful
with Western Colloid Fluid Applied Reinforced Roofing!