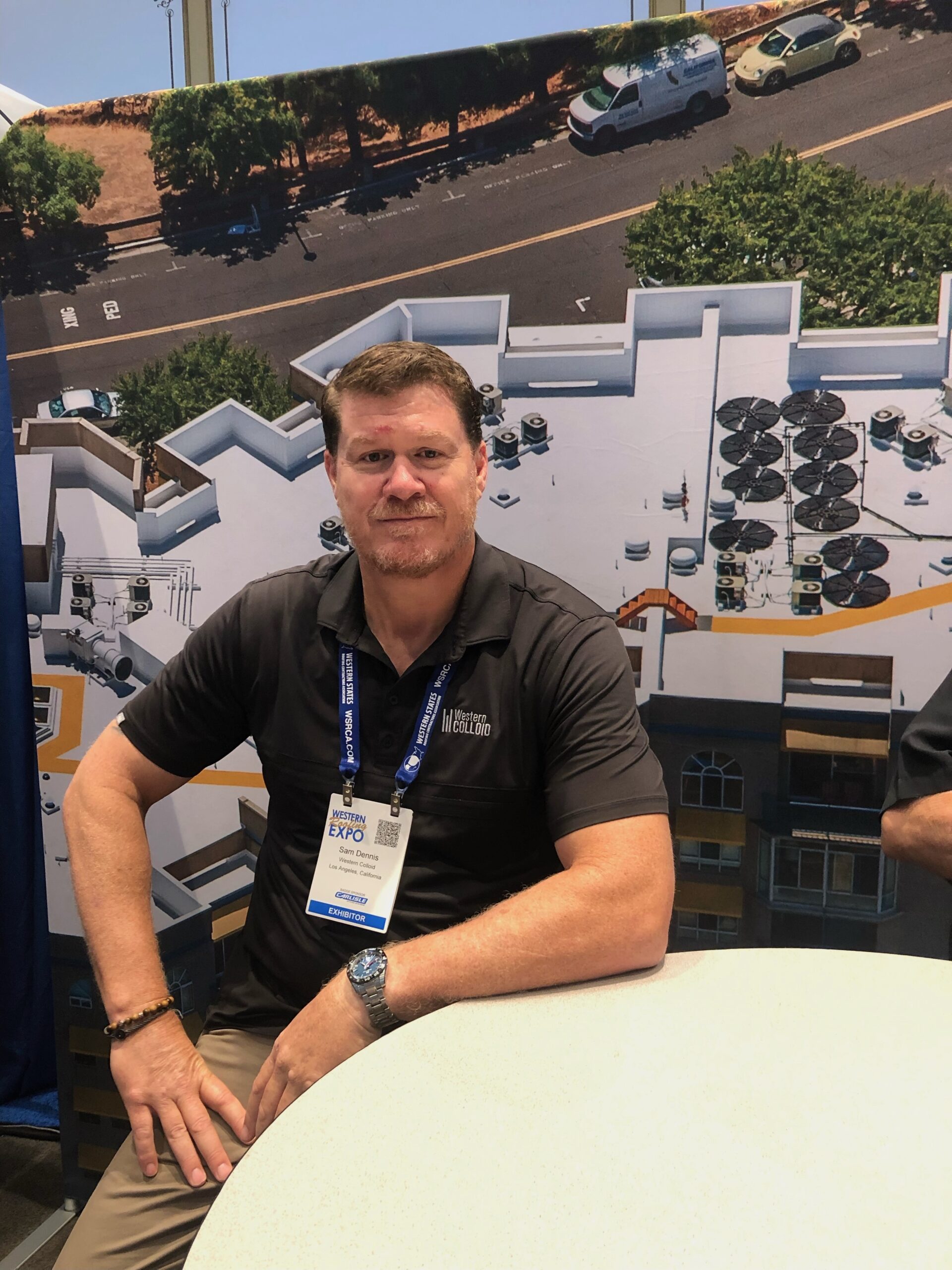 Team Profile – Meet Sam Dennis
Western Colloid is proud to have such a dedicated team. Our customer support is legendary, and our team fits beautifully with our company culture. We think of ourselves as a roofing manufacturer with the soul of a contractor.
These are the people that take our great products and become valued partners with our customers. We thought it would be nice to introduce them to you starting with members of our sales & technical support staff.  Getting to know these talented individuals helps explain the secret to our success.
We are asking our team 10 questions about themselves.
Meet Sam Dennis
Q.) How long have you been in the roofing industry?
A.) I was born into the roofing industry.  I was sweeping up my father's distribution company at twelve.  I officially started at the order desk at Roofer's Mart of Southern California at 19 years old in 1991.

Q.) How long have you been working for Western Colloid?
A.) 12 years now.

Q.) What is your position?
A.) Southern California/Nevada Regional Manager

Q.) What service do you provide your customers that is unique, if you don't mind sharing?
A.) I specialize in working with Contractors, Property Managers and Owners, to best utilize Western Colloid's Fluid Applied Reinforced Roof Maintenance Systems.
I perform on-site inspections, write detailed specifications, help organize budget numbers and competitive bids with top tier contractors, and provide start to finish job support on all of our projects.
Providing consistent customer service is central to my sales philosophy and building long term relationships with the people I work with has been essential to my success. I look at sales as helping people for a living, and I take pride in my role as a facilitator of customer needs. I am excited to bring this philosophy to the company and continue competing in this changing and challenging marketplace.

Q.) What is the most valuable lessons you learned about roofing since working for Western Colloid?
A.) To do this job correctly you need to be focused on the long game of relationships and partnership with the right contractors.  If you're just trying to get in and get the next purchase order, you're missing the point!

Q.) In a few words describe the most important trait in a roofing mechanic/installer?
A.) Pride in their own work.  We at Western Colloid are diligent in our inspections, but we can't be everywhere all the time.  A contractor that puts as high a premium on installing our specifications correctly as we do is gold.

Q.) What are your biggest concerns for the roofing business today?
A.) Labor, labor, labor.  We need more smart and enthusiastic people to enter the roofing trade.

Q.) Do you support any associations related to the roofing/construction industry?
A.) SCRCA, SDRCA, WSRCA, IIBEC, IREM Orange County, IREM Inland Empire.

Q.) What is the thing you like most about Western Colloid as a Company?
A.) The freedom we must succeed on our own terms.  WC has always operated with as little bureaucracy as possible to give the individual reps as much freedom as possible to service the contractor.

Q.) What advice would you give someone just starting in the coating business?
A.) See "Valuable Lesson" above.

Q.) What is your most Frequently asked question in the field when you are on an inspection?
A.) "How does it look."  I find that most contractors we work with take pride in their projects and want to know that their good work is appreciated.

Q.) What makes you smile when you think about your job?
A.) The relationships I've made.

If you are in the Southern California area and need some terrific customer service and support please contact Sam Dennis!