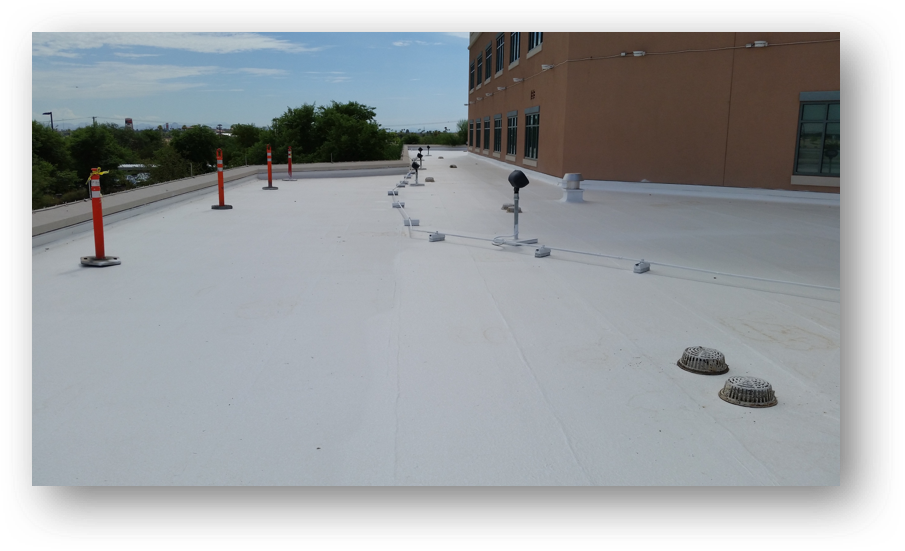 Where and When You Should Use Asphalt Emulsion Roof Coating Systems
If you're looking for a strong, waterproof and long-lasting architectural roof coating system, an asphalt emulsion based coating system is a great option. Not only will it extend the longevity of your roof, but it can also easily be applied to a number of existing roof systems. Plus, they are compatible with most other roofing membranes and coatings.
Most of the Western Colloid asphalt emulsion based systems have FM 4470 Class 1 approvals, ensuring that these systems have been tested by the highest standards for durability.  
What Is Asphalt Emulsion?
Western Colloid #298 asphalt emulsion consists of asphalt, bentonite clay and water which are emulsified utilizing a colloid mill. The emulsifying process breaks down the molecule size, resulting in a stable waterproofing compound.  
Western Colloid's #298 asphalt emulsion roof coating is non-flammable, non-fibrous and virtually odorless. It effectively seals all cracks and seams in your existing roofing system.
The primary use of Western Colloid #298 asphalt emulsion roof coating is as a waterproofing compound for existing built-up, BUR roofs, Modified Bitumen, Coal Tar Pitch, TPO, EPDM, Hypalon and Gravel roofs that saves you from tearing off your existing roof.  
It's economical in nature, making it affordable to build up a membrane of sufficient thickness to stabilize most existing roof substrates. It also saves materials by utilizing your failing roof system as a base and saving landfills from additional waste.
When you combined its waterproofing properties with strength of a polyester membrane and  high emissivity and reflectivity of the energy efficient acrylic topcoats, such as Western Colloid's #720 ARC ElastaHyde, the systems may also improve your building's energy efficiency.
Advantages of Asphalt Emulsion Systems
There are many advantages to using asphalt emulsion systems. These include:
It's economical, which means you can build it up to the correct thickness you need without wasting extra money.
It has UL and FM ratings.
It's a water-based system, so you don't have to worry about fumes disrupting your tenants.
It's seamless, tough and flexible.
It can be used to repair your damaged roof without having to tear it off, causing major disruptions to your tenants and business.
Fluid applied monolithic membrane means there are no seams and water cannot travel underneath it.
It comes with renewable manufacturer warranties.
It doesn't require flame or heat during the application, so there's no fumes or danger to the occupants or persons repairing the roof.
It contains polyester or chopped fiberglass in its makeup which reinforces its strength.
It will last longer than your original roof and is able to be upgraded indefinitely, so you never have to worry about needing to tear-off your existing roof.
With energy-saving reflective coatings the systems will meet and exceed LEED requirements.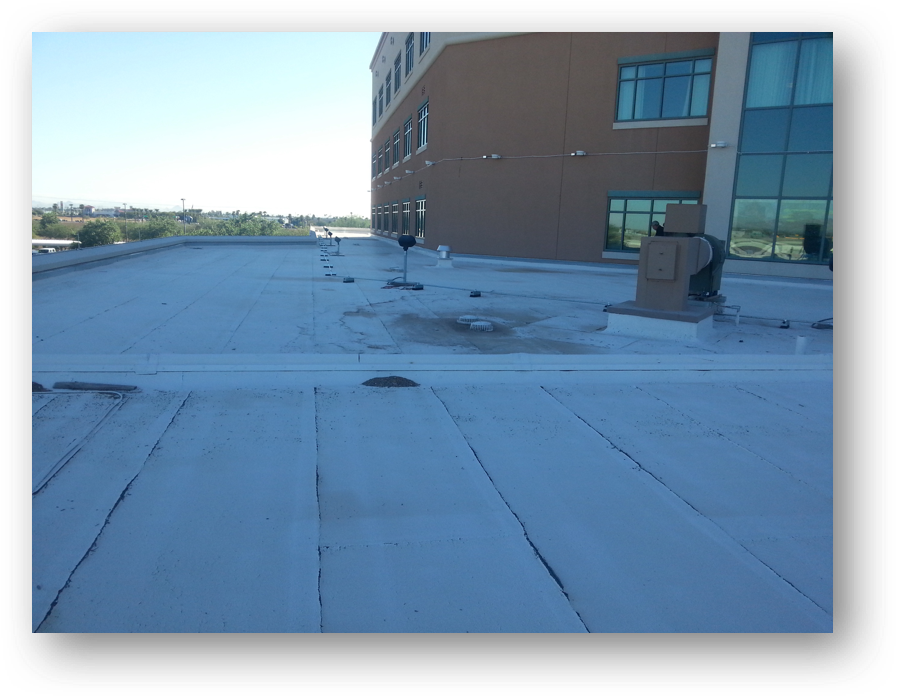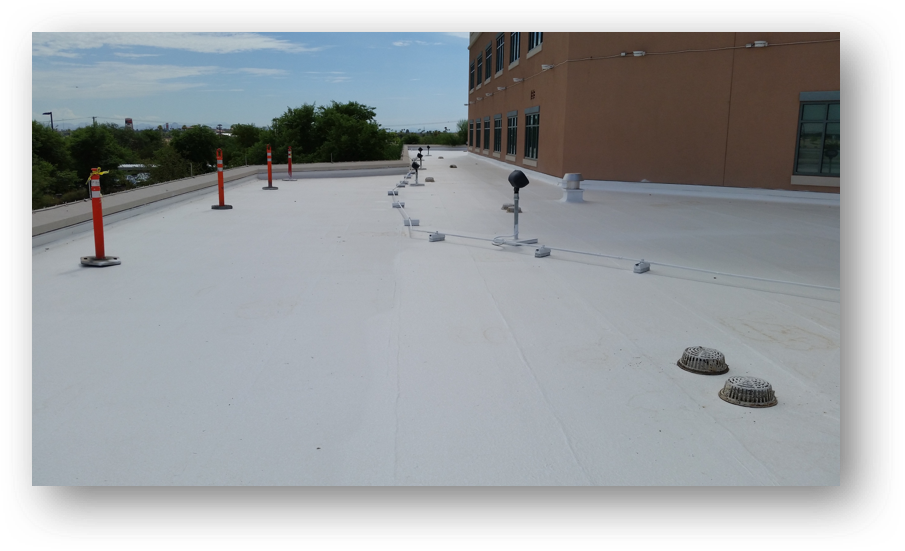 When to Use Asphalt Emulsion Coating Systems?
If you are looking to extend the life of your existing BUR, Modified Bitumen, Coal Tar Pitch, TPO, EPDM, Hypalon or Gravel roof an asphalt emulsion fluid applied reinforced system has many proven benefits. In general, the roof should be structurally sound.  Minor issues with deck and moisture can be repaired but if the overall roof is compromised a tear off and replace may be your only option. Your roof should be inspected by an expert in the field to determine whether your roof qualifies. With an overlay of an asphalt emulsion coating system and minor maintenance the life span of your roof can be extended indefinitely.  
How to Apply An Asphalt Emulsion Roof Coating   
Western Colloid's #298 is available in 5-gallon pails, which are typically applied by rollers, or 55-gallon drums and 275 gallon totes, which are applied using a low pressure spray method. 5,000-gallon tankers are also available for job-site delivery in certain regions.  
For best application, make sure the weather will be no lower than 50 degrees Fahrenheit. It is important that water-based coatings do not freeze before the water content evaporates. Once cured, they are elastomeric in nature so they hold up well in freeze-thaw areas and perform well in extreme thermal shock from fluctuating temperatures. To apply the asphalt emulsion coating:
Sweep dirt and debris using a stiff broom or blower, or pressure wash if necessary. Asphalt emulsion roof coatings can be applied using soft brooms, rollers or spray equipment.
Apply #298 asphalt emulsion to the existing roof using the desired method and then apply polyester fabric into wet asphalt emulsion. Be sure to apply the polyester carefully to prevent gaps and bridging.  This step may be repeated.

It is important that when top coating with acrylics over non-fibered asphalt emulsion that the polyester not be completely saturated with asphalt emulsion. The acrylic coatings should bind to the polyester fabric.

Apply ElastaHyde topcoats at recommended rates.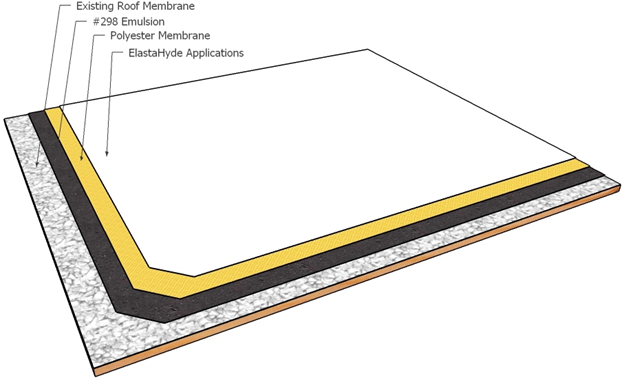 Asphalt emulsion coatings are effective in building a base for waterproofing properties and building an economical roofing membrane.  
When used with a polyester reinforcement, the asphalt emulsion waterproofing gains extra strength, protection and durability. A polyester reinforced asphalt emulsion roof membrane is most commonly used as a base layer for acrylic coatings such as #720 ARC ElastaHyde.  
With the addition of the #720 ARC ElastaHyde, you will have gained an energy-efficient, fluid-applied, reinforced roofing system.  
An asphalt emulsion roof coating system is not only long-lasting, but it can be a critical part of a building's environmental management program. The VOC free formulation of #298 Asphalt Emulsion makes it safe to apply even while the building is occupied.For more information on asphalt emulsion roof coating systems and how to use them at your facility, visit Western Colloid's website and look for the systems with #298 Emulsion listed.