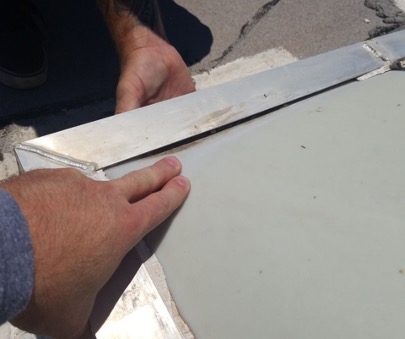 Why Sell a Maintenance Program
The argument for providing a roof maintenance program for your customers.
There was a sales pamphlet offered years ago to a homeowner that said, "We want to be your friendly neighborhood roofer".  Much like the dry cleaner, butcher, or barber, it was a smart tactic.  Don't you want to do business with people you trust?
We imagine the friendly neighborhood roofer keeps in touch with his clients.  He has a terrific reputation, gets the referrals, and if he is smart gets paid to do yearly inspections that might give his client a few more years on their roof BUT provides valuable residual income each year.  He can be a good will ambassador and a save the day hero when he repairs a problem spot.
More often than not roofing contractors are "did the job and see you in 15 years." With this model of "roof and run" you are walking away from revenue and the intangible hard to see marketing, branding, and reputation benefit that comes from it.
You may think as a commercial roofing contractor that the "friendly neighborhood roofer" image does not apply, but it can. If you are not staying in touch and offering a maintenance program, you are missing all the same benefits.
Besides trying to sell your client an extra service it sends a message that you are in for the long haul.  It says that your company and the product you are installing can be counted on.  When you make an effort to keep in front of your client you are top of mind for their next building project.
Send them a thank you note, holiday cards, or put them on an inspection reminder email. Send them an anniversary card for their roof. Don't think of marketing ideas just to attract new clients, use clever programs to build relationships with old ones.  Ask for a referral or recommendation.  Keeping in touch allows you to learn of new opportunities.
If you haven't had a maintenance program in the past, it's not too late to start.  Look at your old project files.  Contact your old clients and ask them if they would like an inspection at no charge.  You have the opportunity to catch a problem and impress your client.
What a great way to set yourself up for when the roof is worn out, (this is a great spot to use a Western Colloid FARR system), to secure the eventual roof restoration.
Don't just rely on the marketing and sales department to spread the word. Make sure the entire team is on board with selling that maintenance program.  Everyone in the company can be an ambassador.  Think of it as an extension of a customer service department.
There are all sorts of new technologies designed to help you automate your programs.  Everything from automated emails, (though the personal touch from your sales, estimators or President is preferred), to portals that customers can use to keep tabs on their roof.
Western Colloid is the perfect partner for your maintenance program.  The products and systems we offer to repair, restore or recondition a roof are the perfect complement to your program. Our products can give the roof new life and by the nature of the products eliminate most common maintenance concerns.  A fluid applied roof has no seams to leak and it is superior on holding up against ponding water. Plus, we have a team of experts that can give you on the roof support along the way.  We understand roof maintenance.
We spotted this Theodore Roosevelt quote on our Texas and Regional Manager Glenn Thurston's LinkedIn page, "People don't care how much you know until they know how much you care."  What a great message when thinking about when trying to be the friendly neighborhood "commercial" roofer.
For more information about Western Colloid and their products contact us HERE