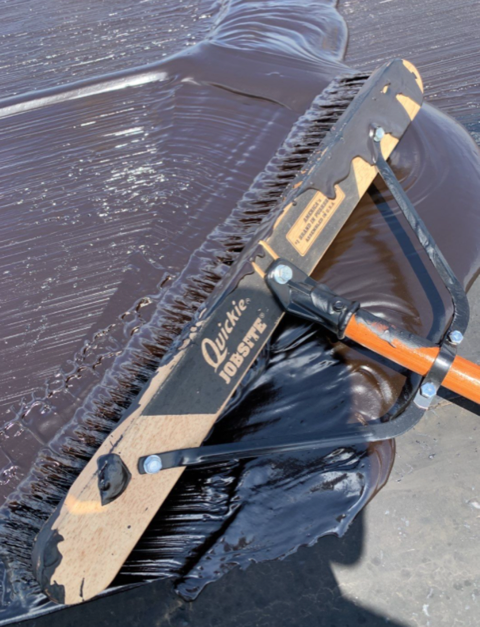 Asphalt Emulsion – a History of Saving Roofs (and Money!)
Western Colloid's #298 Asphalt Emulsion is an unlikely hero in roof restorations.  It saves countless roof removals from the landfills and it does it in the most economical way.
More owners are seeking environmentally friendly roof systems that are cost-conscious and will perform for many years. Western Colloid's asphalt emulsion-based system is very kind to the environment because it has no solvents or added chemicals. Emulsion is made with just three ingredients – asphalt, water and clay.
An asphalt emulsion is an asphalt that isn't readily flammable. It is a combination of a straight run distilled asphalt. One that's not been oxidized, like hot mopping asphalt.  It's distilled and left in its purer form. It is mechanically ground with a bentonite clay, and it becomes a colloidal, product and water (Hence the colloid in our name.) The emulsifying process breaks down the ingredients to molecule size, resulting in a uniform, stable waterproofing compound. Once the water evaporates, it's a combination of bentonite clay and asphalt. And those two things are very waterproof. It is low-cost product which is very resistant to water.
This proprietary manufacturing process blends it into a water-based product that can be applied to over just about any type of existing roof including built-up roof systems, modified-bitumen, TPO, EPDM, Hypalon and coal tar pitch. But especially gravel roofs.
For over 40 years we've been restoring roof's that had gravel on it because of our secret weapon. We make an Asphalt Emulsion. That's an important benefit when you want to cover the embedded gravel.  When you remove the gravel from a built-up asphalt roof it is heavily damaged. Asphalt Emulsion helps to fill in the voids and smooth out the roughness. Emulsion allows you to level out the surface, without completely removing the existing roof.
Asphalt emulsion is used at ambient temperature, and it's never heated. Some of the early asphalt coatings and some that are still used today have to be heated. Some are solvent based and to use them, if it's cool out or the temperature, they don't flow very well. Where asphalt emulsion can be sprayed easily.
Another reason it is becoming so appealing to building owners, architects and specifiers is that it has zero VOCs, no fumes and little to no odor. It is applied at ambient temperatures and there is little to no impact to occupants of buildings where they system is being installed. No ventilation is required, HVAC systems can remain operational and business won't need to be paused or interrupted.
When you combine Emulsion's waterproofing properties with strength of a polyester membrane, high emissivity, and reflectivity of the energy efficient acrylic topcoats, such as Western Colloid's #720 ARC ElastaHyde, the systems will also improve your building's energy efficiency.
Most of the Western Colloid asphalt emulsion-based systems have FM 4470 Class 1 approvals, and a Class A Fire Rating ensuring that these systems have been tested by the highest standards for durability.
There are many advantages to using asphalt emulsion systems.
In Summary:
·      It's economical, which means you can build it up to the correct thickness you need without wasting extra money.
·      It has UL, FM and Class A Fire ratings.
·      It's a water-based system, so you don't have to worry about fumes disrupting your tenants.
·      It's seamless, tough and flexible.
·      It can be used to repair your damaged roof without having to tear it off, causing major disruptions to your tenants and business.
·      Fluid applied monolithic membrane means there are no seams and water cannot travel underneath it.
·      It comes with renewable manufacturer warranties.
·      It doesn't require flame or heat during the application, so there's no fumes or danger to the occupants or persons repairing the roof.
·      It contains polyester or chopped fiberglass in its makeup which reinforces its strength.
·      It will last longer than your original roof and is able to be upgraded indefinitely, so you never have to worry about needing to tear-off your existing roof.
·      With energy-saving reflective coatings the systems will meet and exceed LEED requirements.
If you are looking to extend the life of your existing BUR, Modified Bitumen, Coal Tar Pitch, TPO, EPDM, Hypalon or Gravel roof an asphalt emulsion fluid applied reinforced system has many proven benefits. With an overlay of a fluid applied asphalt emulsion system and minor maintenance the life span of your roof can be extended indefinitely.
For more information on fluid applied asphalt emulsion roof systems and how to use them at your facility, visit Western Colloid's specification pages and look for the systems with #298 Emulsion listed.
Image courtesy of RoofCare US in New Mexico.