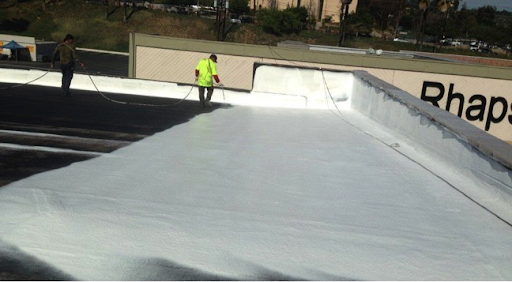 Asphalt Emulsion vs. Acrylic vs. Silicone
When it comes to maintaining your roof, roof coatings are an effective way to maximize your investment. They can be applied quickly on top of your existing roof system, limiting the disruption to tenants and occupants. And where many building codes limit the number of full roofs you can install on top of each other, those limitations generally don't apply to coatings as they won't significantly increase the structural load.
But not all roof coatings are created equal. Let's take a closer look at some of the pros and cons of the most popular roof coatings.  
What to Look for in a Roof Coating
Contractors will often recommend options like asphalt emulsion, acrylic or silicone coatings. These are all similar in that they can be applied on top of your existing roof without the need to tear off of the old roof, and they create a seamless membrane to reduce the chance of water intrusion.
But if you're weighing the pros and cons between acrylic vs. silicone roof coatings you need to take a few other factors into consideration like:
Durability
How much traffic does your roof get and what extreme weather will your roof be subjected to?
Climate 
Buildings with high sun or heavy precipitation will need different coatings than those with more moderate climates.
Energy
If you're looking to meet requirements under local green building ordinances or you're trying to achieve accreditation under a standard like LEED or NetZero, white roof coatings are probably your best choice. 


If you have design guidelines that prevent white coatings and still need to meet energy efficiency standards, it is possible to achieve this with very light gray and tan colors.   Most white or light color roof coatings start off with high energy efficiency and lose some of it over time due to weather.  
The Cool Roof Rating Council is an excellent resource to investigate the long term solar reflectance of roof coatings. It was created in 1998 to develop accurate and credible methods for evaluating and labeling the solar reflectance and thermal emittance (radiative properties) of roofing products and to make that information available to the public.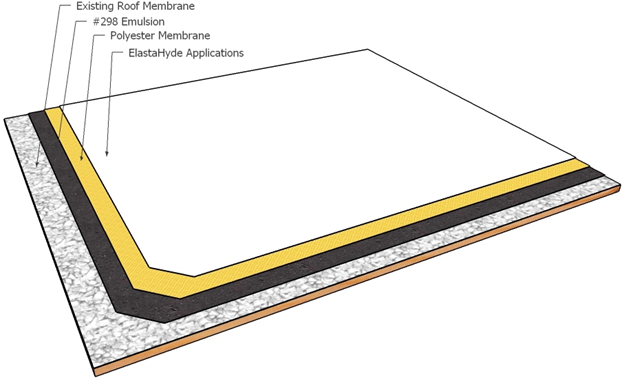 Asphalt emulsion coatings are designed to be layered with polyester as the base waterproofing membrane and then top coated with energy-efficient acrylic coatings. They are compatible with a number of existing roofing systems including TPO, PVC, EPDM and built-up roof (BUR) systems, making them a great solution to extend the life of your existing roof.
Asphalt emulsion is a bitumen, clay and water product that does not need to be heated to install: No smelly tar pots required. It is dark brown in color, and while it does not provide energy efficiency, it does have excellent waterproofing capabilities when applied at the correct thickness. Western Colloid's asphalt emulsion has no VOCs and virtually no odor, so they can be applied even in occupied buildings without creating issues like nuisance odors that cause complaints. 
Bitumen has been used as waterproofing for ages and was reportedly used in constructing the walls of Babylon. The waterproofing characteristics are excellent when used in a Fluid Applied Reinforced Roof (FARR) system, which is layers of emulsified asphalt applied between strips of reinforced polyester fabric. 
Acrylic Roof Coatings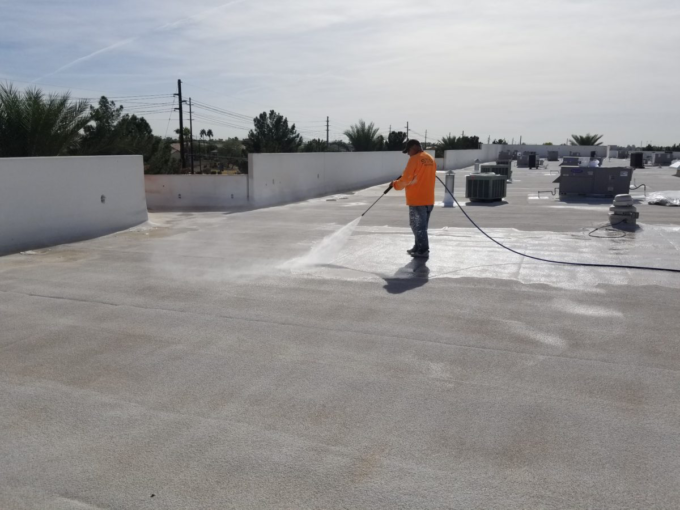 Where tenants or local governments demand extra energy efficiency, an acrylic roof coating is a great solution. Like asphalt emulsions, it can be applied with layers of reinforced polyester fabric, giving a durable, waterproof finish. Acrylic coatings are water-based and low VOC, making them a safe and efficient solution for occupied buildings such as hospitals.
Acrylic coatings have been a key component of cool roof systems for many years now. They go on white but can be custom tinted, and they reflect solar energy instead of absorbing it as darker colors do. If you're looking for a roofing solution to comply with green building ordinances — or to help achieve green building accreditations — an acrylic roof is a great option.
One of the biggest concerns we hear about acrylic coatings is that they don't stand up to ponding water. It is true that some don't and all of them must be applied properly to perform as expected. You should always check with the manufacturer if you're looking for a coating that lasts when faced with ponding water.
An acrylic coating such as Elastahyde-720, reinforced with a layer of polyester, has been proven over and over to be resistant to ponding water. The polyester in the water-based product adds strength and durability in standing water and is easily renewable. This polyester reinforcement may not be necessary over the entire roof but can be applied just in the ponding areas and waterways.  
Acrylic coatings can be designed for specific purposes including ponding water, UV- and puncture-resistance along with elasticity and reflectivity requirements. Some are also rated for high impact such as hail. And because they are water-based, they are easily renewable and sustainable.  
Like asphalt emulsion roofs, acrylic roof coatings are designed to be applied over a number of existing roof systems, including metal, TPO, PVC, BUR and Modified Bitumen. Owners and operators who want an efficient way to reduce their energy consumption should consider acrylic coatings.
Silicone Roof Coatings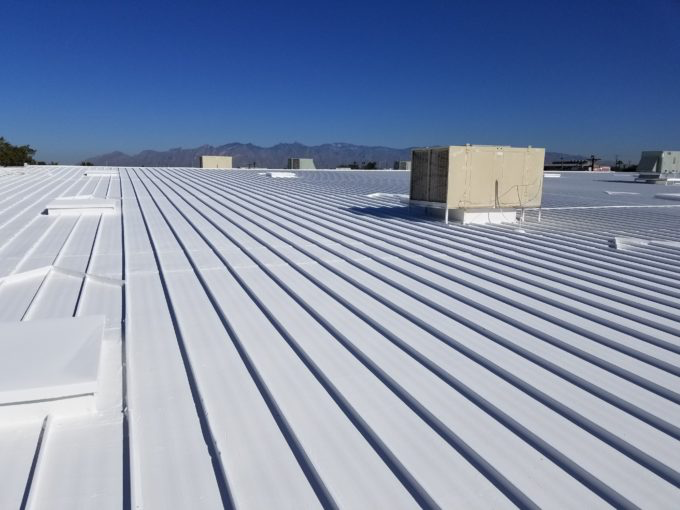 Silicone roof coatings, like acrylic, are white, which makes them a good choice if you're looking to improve your building's energy efficiency. They're also applied either with a brush or spray, but usually do not include the reinforced polyester layer for strength, flexibility and durability.
Silicone roofs are often recommended by contractors when precipitation and ponding water are a problem, and they can be very effective solutions. Building owners and operators considering a silicone roof to address water problems need to make sure the contractor uses the appropriate primer to ensure maximum waterproofness.
However, one of the biggest questions with silicone roof coatings is their longevity. Without that polyester layer, they can crack faster than acrylic or elastomeric roof coatings. As well, many silicone roof coatings aren't recoatable, so when they age, the whole roof needs to be removed, rather than applying a new coating like asphalt emulsion or acrylic.
Which Coating Is Right for You?
A roof is an investment, and you want to know you've chosen materials that will last and help protect your whole building. In deciding which coating is right for you, the decision between asphalt emulsion vs. acrylic vs. silicone roof coatings weighs factors like durability, climate, energy and waterproofness.
If you need help determining the right roof coating for your building, contact Western Colloid for a free consultation with a roofing expert.