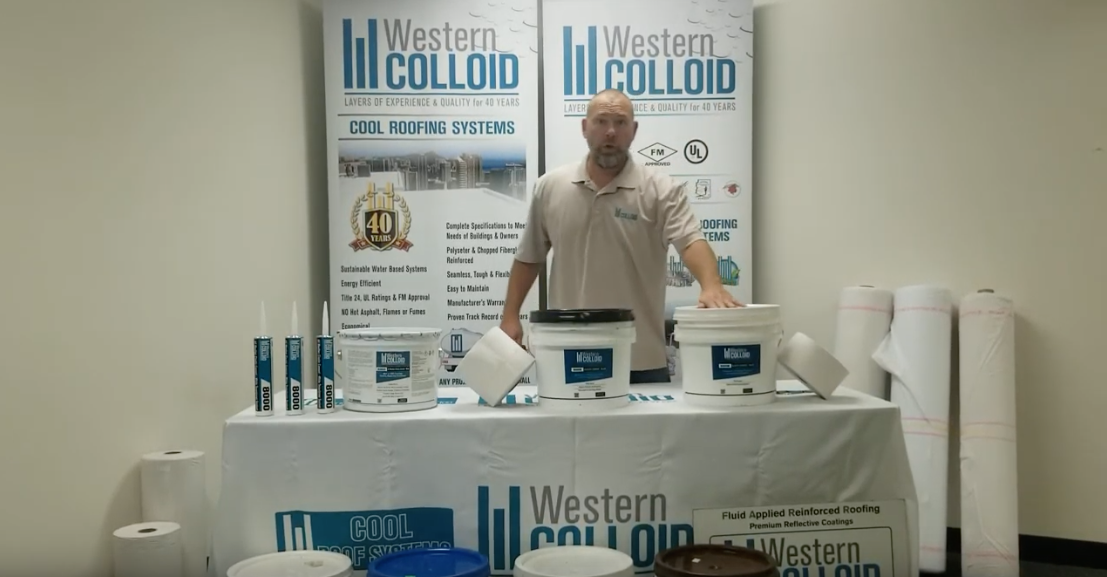 Want to learn more about Western Colloid products? Watch these!
It's the quality of Western Colloid products that have helped make us a roofing industry leader. We take pride in what we do and only make the best products possible. To learn more about our Fluid Applied Roofing, Reflective Coating Systems, and Premium Asphalt Sealcoats, watch these videos!
Company Overview
First, our very own Tim introduces our products and our company. Specifically, FARR: fluid applied reinforced roofing systems. Did you know in most cases we don't have to remove your current roof? That's just one of the reasons to choose Western Colloid products!
Fluid Applied Roofing Systems
Next, Tim outlines the four main products used to install 75%-85% of our systems. These include asphalt emulsion, polyester fabric, mastics, and an acrylic top-coat. Customers love these Western Colloid products because they're water-based, tenant-friendly, and economical. In addition, they're easy to install! We even offer top-notch contractor support and training if you'd like to learn more.
Coatings Overview
Now, Chris Ford will quickly introduce you to our coatings products. First is an acrylic-based elastic cement that's available in both white and black. And next is a solvent-based all-weather elastic cement that comes in a tub or tubes for your convenience.
Polyester Fabric
Finally, Chris will outline an easy way to save money on the job! Pre-cut rolls of polyester fabric allow for cleaner edges, straighter lines, and less waste. We offer these rolls in a variety of sizes to best meet your needs.
Attend a Live Demo
Are you interested in learning more about the lucrative business of Fluid Applied Reinforced Roofing? We would love to help! We will be hosting a series of live product demonstrations in the West. Here, we will share a few secrets about making your jobs more productive and efficient. We will also ensure you know the installation best practices, proper technique, and more. Contact us today or call 800-464-8292 to see when and where our next demonstration will be.

Learn more about Western Colloid Products
There's a lot more information to be found about our products! Feel free to browse the Products page of our website or contact us today to learn more.