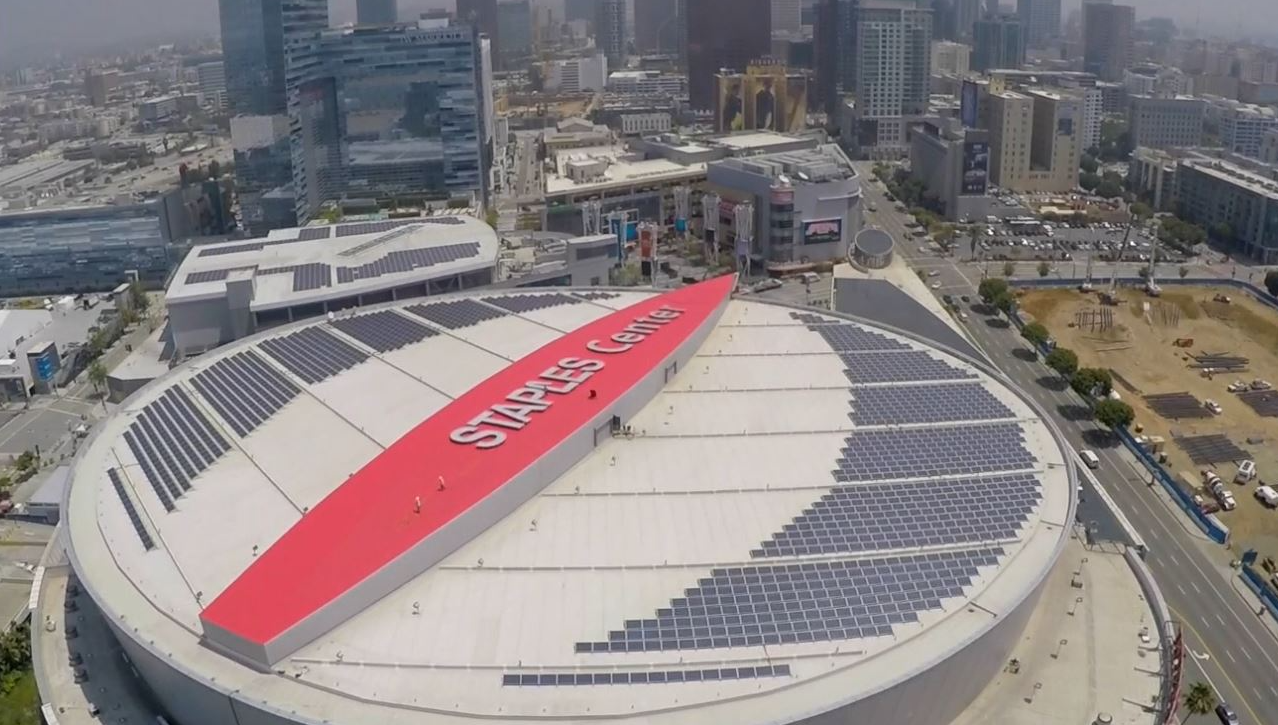 Our Favorite Fluid-Applied Roofing Projects in California
As the third-largest state in the United States, California covers a vast geographic area and enjoys varied weather and climates. From high altitudes to the desert, foggy coastlines to endless sunshine and everything in between, there is no one-size-fits-all solution when it comes to building materials in California.
Building owners and operators in California need roofing solutions that can withstand high UV-exposure. Roof systems that absorb lots of solar energy put an increased load on building cooling systems and drive up utility bills. And roofs in northern regions and at high elevations are exposed to damaging freeze-thaw cycles that can lead to water intrusion.
Fluid Applied Reinforced Roofing (FARR) provides building owners and contractors with a cost-effective and durable solution that helps buildings withstand the elements, reduces energy demand and can be customized to meet your needs.
Here are some of our favorite FARR roofing projects in California.
High-Rise Office Building, Irvine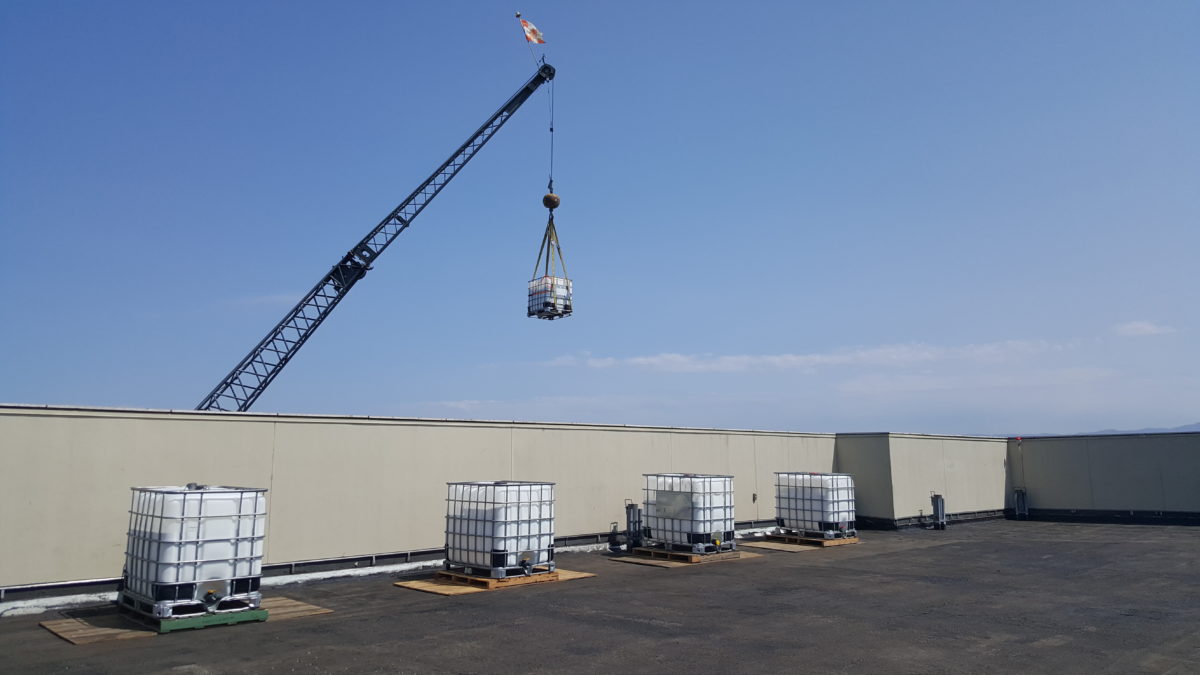 Tall buildings pose very specific challenges for roofing projects, and this 20-story building was no exception. Not only do tall buildings make it difficult to transport roofing materials to the project site, but the sheer quantity of roofing materials needed on such a large building poses a potential structural hazard if they are stored in a central location on the roof.
Instead of pumping the coating to the roof, as the contractor would normally do for a shorter building, a crane was used to lift totes to the roof instead. To manage the structural load, Western Colloid supplied half-filled totes, which were placed across the roof at various locations determined by a structural engineer.
This building was also located in a busy area, with hotels and parking garages surrounding it. The crane could only be operated from a single location, and materials could only be lifted from Friday evening to Sunday afternoon in order to minimize disruptions while security crews closed the street in the immediate area of the crane. Contractors also used sound control to minimize noise during daytime application of the roof coating.
Despite these restrictions, the project was completed successfully and with minimal disruptions. By working collaboratively with Western Colloid, contractors, engineers and building managers were able to devise a solution that worked for all parties.
Staples Center, Los Angeles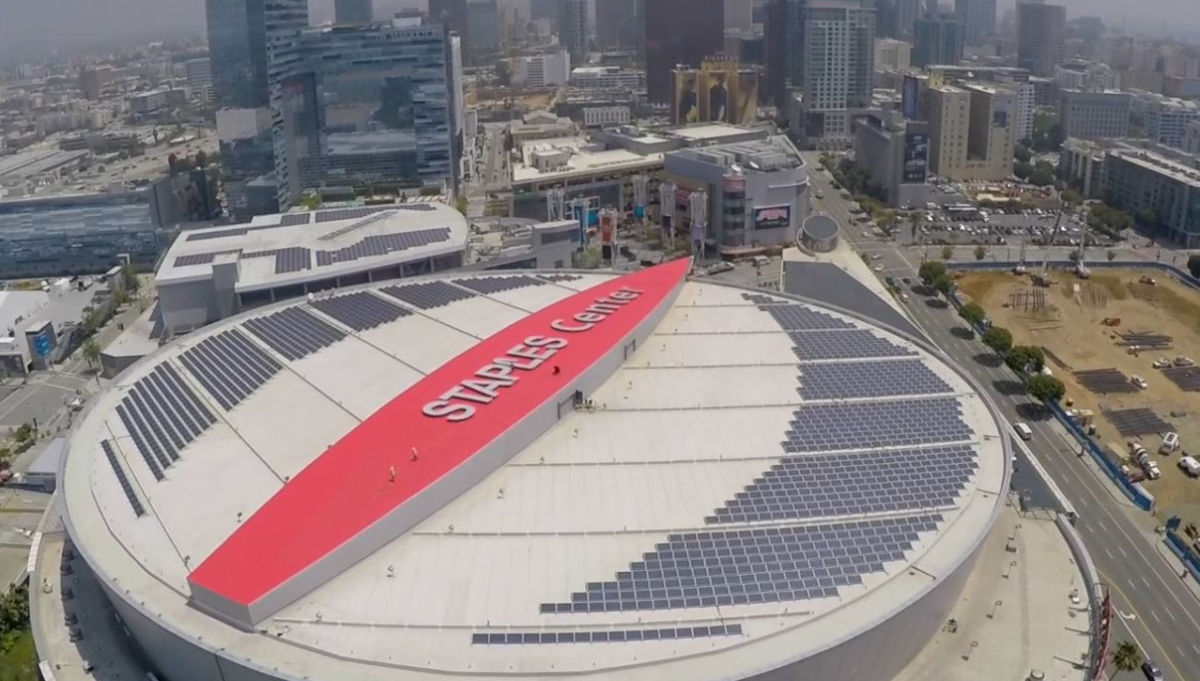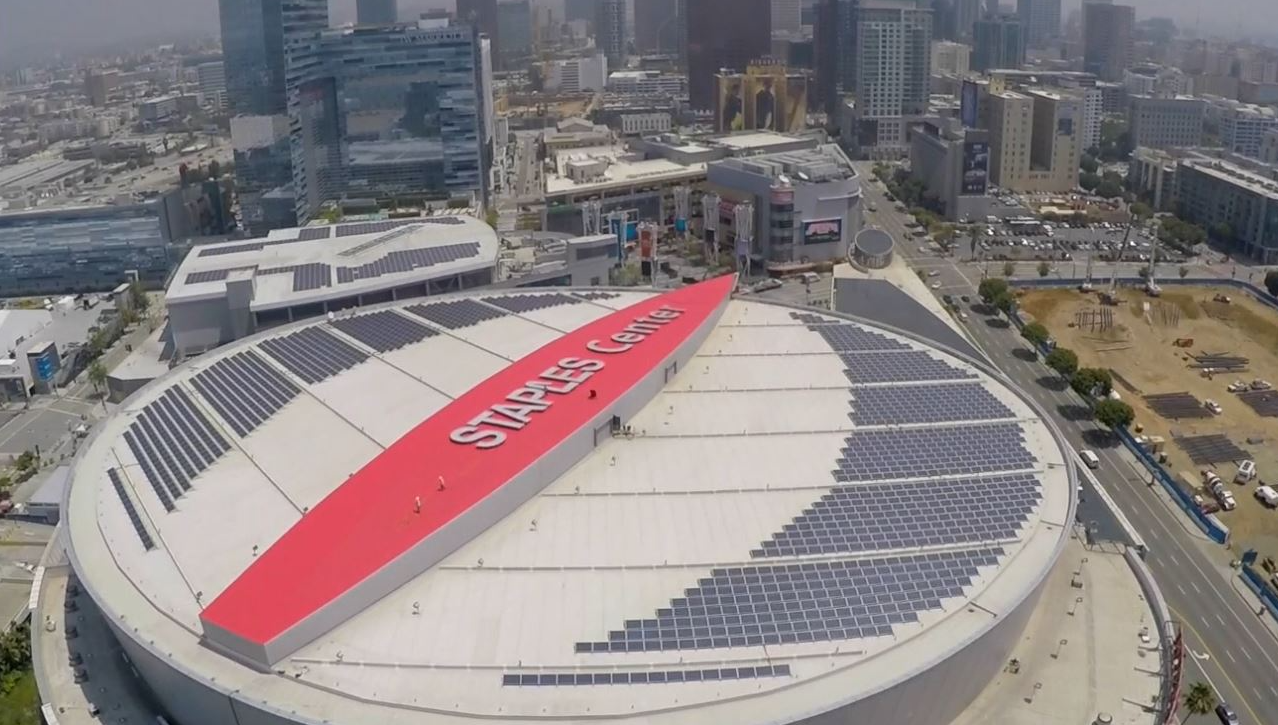 Unlike many roofs, which are never seen in day-to-day life, sports arenas and stadiums often serve as key landmarks in city skylines, and corporate sponsors who pay millions of dollars for naming rights want to make sure their branding looks great every day.
Western Colloid was contacted to help refresh the Staples Center's sixteen-year-old roof in 2015. Using a custom-colored acrylic elastomeric reflective coating, contractors were able to refresh the signature color. The distinctive red portion of the roof is clearly visible by commuters on nearby highways.
Western Colloid's ability to create custom colors is more than aesthetic; the high-quality acrylic coating that was applied will also help extend the life of the single-ply membrane underneath it.
Department Store Solar Retrofit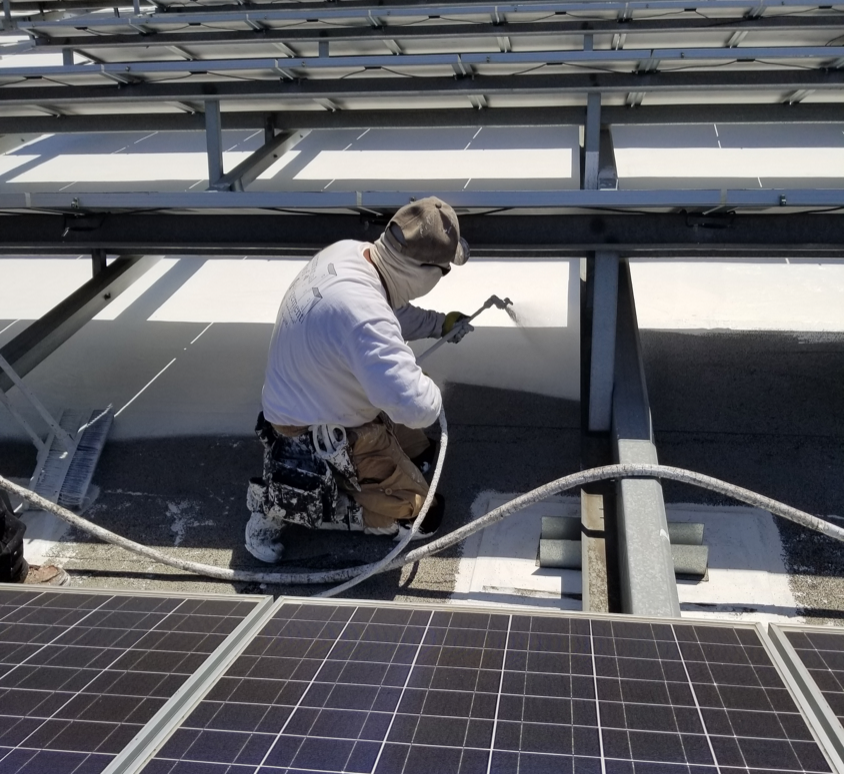 Western Colloid was brought in to find a solution for 18 department stores that needed a roof refresh but were facing challenges related to recent solar panel installations. Solar panels covered more than 50% of each roof's area.
While green building initiatives and high energy costs mean that solar is increasingly popular in California, it does pose some unique challenges when it comes to roof repair and replacement. Solar panels will void roofing system warranties in some cases, while new roof systems may void solar warranties or even damage the panels or hardware.
In many cases, contractors will recommend solar panels be removed prior to starting the roof project, but for 18 stores and over half the total surface area to be worked on, this approach was both cost and time prohibitive.
Western Colloid was able to provide a variety of acrylic and asphalt emulsion products to recoat the roof without removing the solar panels. This approach substantially reduced the time and cost required for the project and generated minimal waste, since contractors were able to apply the coating directly over the existing TPO and EPDM membranes.
Temple Beth El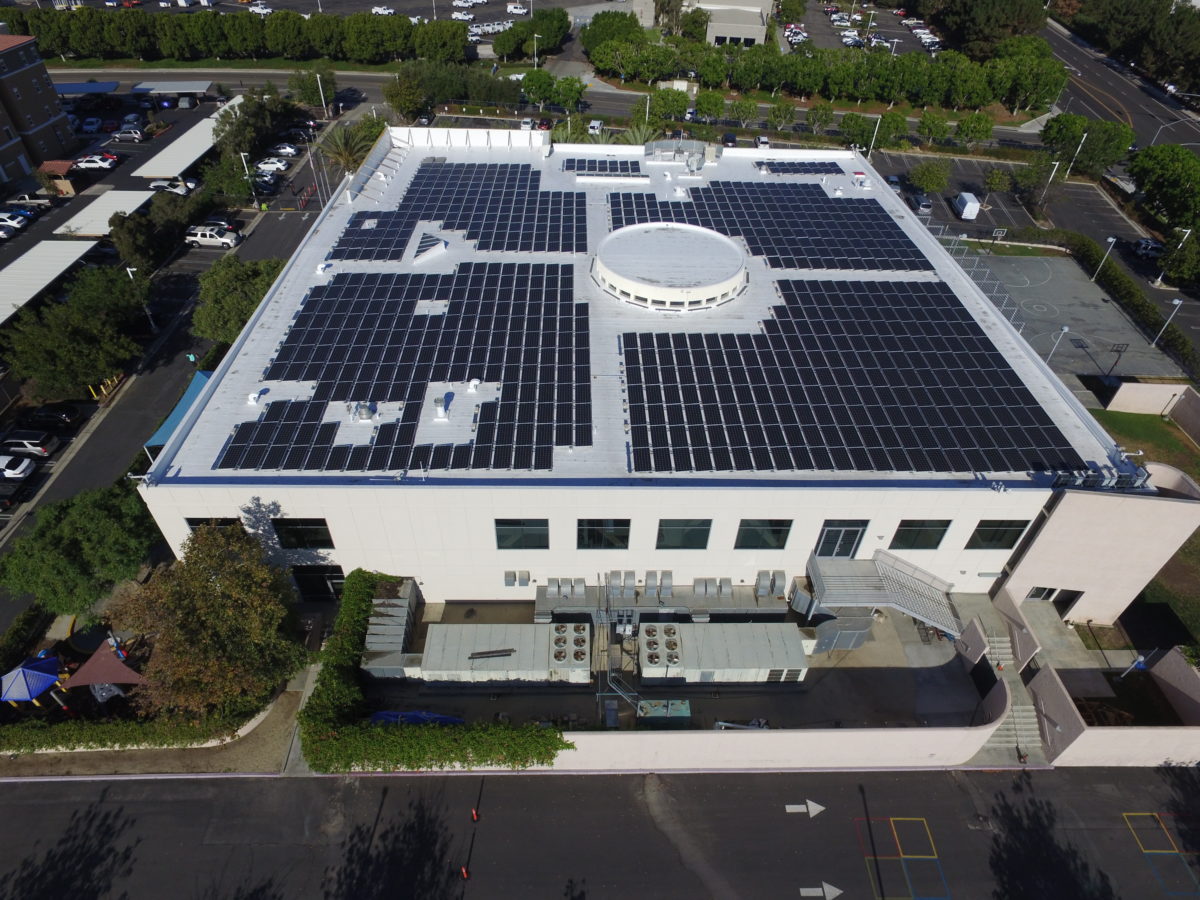 This project presented a number of structural and material problems. The temple wanted to add solar panels and needed a roofing material that could both withstand the traffic of installing and maintaining the panels and would be warrantied for the same number of years as the panels themselves.
Before the roof could even begin to be coated though, contractors and engineers needed to address some serious structural issues. The turret in the center of the roof had been installed after the initial building and roof's construction and was shearing badly, literally pulling the roof apart. The turret had to be stabilized before roofing started.
The newly stabilized roof could then be coated, using layers of asphalt emulsion and reflective acrylic coating. The solar panels were installed after the coating was complete, creating a waterproof roof system that was warrantied for the same lifespan as the panels. The completed roof coating system was tested and approved by Factory Mutual and meets the FM 4470 Class 1 rating.
Pacific Dental Services, Irvine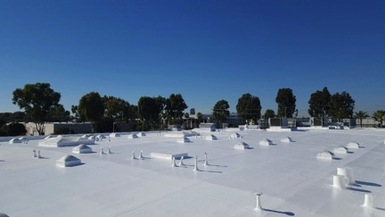 Pacific Dental Services is a great example of solving an extensive problem with significant cost and labor savings. The aging EPDM roof at Pacific Dental Services had over 100 leaks across its 124,000 square foot surface. Contractors had recommended a complete tear-off and replacement with a new EPDM roof system, which would have involved substantial time and money.
The building owners engaged a roofing consultant, who suggested an alternative solution: a FARR coating. Western Colloid supplied asphalt emulsion and acrylic roof coatings, which were applied over the existing EPDM system. This approach saved the owner 30-40% off the cost of the quoted price for the full tear-off and replace.
The Right Roof for California
Whether you're dealing with extreme weather, extended sun exposure, water intrusion or an aging roof system, a roof coating is a cost-effective way to extend the life of your roof and maximize your investment in your building. For more information, visit the Western Colloid website and request a free consultation.